New Reviews of Comics and More!
We're back with our weekly comic book reviews! This week, we review Action Comics #3, Detective Comics #3, Uncanny X-Men #1, Witch Doctor #4, and Dark Horse's Classic Marvel Characters #1: Spider-Man 2011 NYCC Exclusive. Plus, stay tuned for our review next week of Mike Mignola's Hellboy: House of the Living Dead HC!
Check out our video below. MILD SPOILER ALERT! We'll avoid any big spoilers, but we will give out a few details as we go. So were these comics and items Box-Worthy, Fence-Worthy, or NOT Worthy? Listen to our opinions and then post your own below.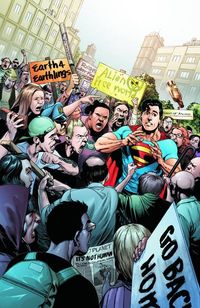 SEE ALL OF THIS WEEK'S COMICS AND MORE

BROWSE DC COMICS' THE NEW 52 ISSUES

SUBSCRIBE TO OUR YOUTUBE CHANNEL
What did you think of these titles? What should we review next week? Post your comments below!
Please follow and like us: