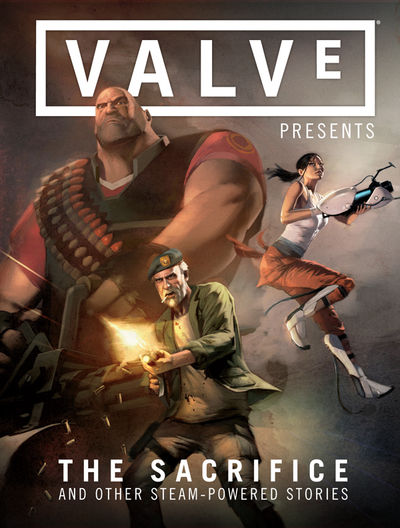 Valve Games burst onto the video game scene in 1998 with their mega-smash game Half-Life, which garnered more than 50 game of the year awards and millions of fans. Since then they've set the standard of fully immersive, addictive games with Portal, Left 4 Dead, Team Fortress 2, and many more.
Now the artists and writers from Valve, including Michael Avon Oeming (Powers), Andrea Wicklund, Ted Kosmatka, and Bay Raitt, have created comics inspired by the video games–and collected them into Valve Presents: The Sacrifice and Other Steam-Powered Stories, an amazing hardcover graphic novel from Dark Horse Comics! If you live in the Portland, OR area, you can meet them at our Valve signing November 12 at the Things From Another World Hollywood from 7-10 pm, but in any case, you can read our incredible interview with Oeming, Wicklund, and Kosmatka below.
Don't forget to click through to enjoy our exclusive nine-page preview from book, due out November 16!
TFAW.com: Can you tell us a little about what you do at Valve, and what you've done for the book?
Michael Avon Oeming: Mostly I draw comics for our blogs and websites, along with Andrea Wicklund, Jim Murray, and contractor Heather Campbell. I contribute design work here and there and help on the Steam sales, again, mostly on the art side. Thanks to what I'm exposed to here at Valve, I'm learning to become a more well-rounded artist, especially in the digital world. But we all work together very closely, cross-contributing to all projects, even those we're not necessarily heavily involved in.
Ted Kosmatka: I'm a writer at Valve. The writers here tend to work on a lot of different projects at once, and there's usually a bunch of collaboration that goes on, with various team members jumping in and lending a hand wherever it's needed. I was the main script writer behind the Portal 2 comic, but all the writers had a hand in that project.
Andrea Wicklund: I'm an artist. That's a pretty vague title, I know, but that's the beauty of working at Valve. I'm able to jump in and apply myself wherever there is art to be done. Specifically, I do concept art, character design, font design, texturing, illustration, and now comics. The Portal 2 comic, Lab Rat, is where the biggest chunk of my work appears in the book. Mike and I collaborated on the artwork, and Ted wrote the script. I also did a bit of coloring for the Team Fortress 2 comics.
TFAW.com: There have been a lot of comics inspired by video games lately, including Mass Effect and now Valve Presents. Why the spike in popularity, do you think?
MAO: I think game people are discovering that comics are a great way to both expand the world of a game and deepen the gaming experience. How did the characters get to where they are? How do they interact between the action scenes? What are their backgrounds? That's where our writers really shine, I think. Writers like Jay Pinkerton, Erik Wolpaw, Chet Faliszek, Marc Laidlaw, and Ted Kosmatka. Valve's in-house writers work consistently in these worlds for years, so they know how to bring out the best in these characters in a way that an out-of-house writer couldn't.
AW: Comics give gamers an opportunity to see their favorite video games behind the scenes. Our writers and artists can take the characters from our games and open them up to our audience, developing them further, making the gaming experience more intimate.
TFAW.com: Imagine you're talking to someone who hasn't played a video game since Super Mario Bros. What is the most important change since then, and what has stayed the same?
TK: I think the biggest change in games since Super Mario Bros has been in mustache technology. Mustaches used to huge and funny looking. Now they are bad-ass. Also, beards are now possible as well.
AW: As effective as the music is in Tetris, for example, I must say that video game soundtracks these days, especially ours, are phenomenal–sophisticated, cinematic, evocative. (Thank you, Mike Morasky.) What has stayed the same? Both Tetris and Left 4 Dead give me heart palpitations.
TFAW.com: Comics and video games are two very different storytelling mediums. How do they complement each other?
MAO: I love the way games and comics can mix layers of emotion and action so that it enhances the overall experience of the story. When you read the L4D comic, or the TF comic, you can hear the character's voices, specific sound effects, and even musical cues. While playing the game, your mind picks up on the subtext of the characters–their personal relationships, how they interact with each other, their back stories. All those things are in your mind as you experience the story in either medium. One experience enhances the next.
TK: There are some things you can do with narrative in games that you can't do in comics, and vice versa. I'm fascinated by the narrative control that is possible in comics, where you can turn a whole plot around a single image, or a single spoken line, after just a short number of pages. Games, by comparison, are these large, sprawling, unruly things that take on a life of their own, and have their own special narrative magic. To me, comics seem like a natural way to provide back story and deepen character development within a universe already put in play by a video game. Comics are also a way to link different narrative set pieces used within a game and provide a bridge between sequels.
TFAW.com: Why did you decide to bring Portal, Left 4 Dead, and Team Fortress to comics?
MAO: Honestly, we were just excited to be able to tell stories set in these worlds. We also wanted to expand the experience for our fans. They can play the game at home, but they can read the comics while going to work. They can bring that experience with them away from the computer to read on their phones or e-reading devices. And now with the Valve Presents book, they will have a physical copy for the bookshelf.
AW: I agree. They're such beautifully developed games. It would have been a shame not to embellish them further.
TK: Portal is such an amazing, rich universe, with so many unanswered questions. It was incredible to be able to dig into that a bit, and let the story unfold in a way that seemed both natural and inevitable.
TFAW.com: Michael is, of course, a veteran of the comics industry. For the rest, were there any surprises about the process?
MAO: Let me say that developing these comics here at Valve has been a whole new process for me. Even more organic than my personal projects. Drawing the comic at the same time it's being written is completely different. Jay would often bounce a page back asking for a small change that might make a joke more clever, or the storytelling more clear. The Valve folks caught on really fast, and although Andrea had never drawn a comic before, her work could stand next to any of the greatest comics ever painted.
TK: The main surprise for me was how easy it is for the writer to ruin the artist's day. The writer takes 10 seconds to think something up, and then the artist has to spend hours or days taking that half-baked and malformed idea and transforming it into something beautiful. I was constantly amazed by both Mike and Andrea as I worked on the Portal 2 comic.
AW: The knowledge and motivation I received from Ted and Mike did not surprise me at all. Collaborating with brilliant people like them inevitably increases the creative magnitude of any project by a bajillion. What does surprise me is that Ted thinks he could have possibly ruined my day. I'm also surprised that Mike Oeming just said that about my art! OMG, thank you!
TFAW.com: What made you choose Dark Horse as your publisher?
MAO: They do the best game comics period. More importantly, their production value on books like the oversized Hellboy, Usagi, and Art of Alice showed they were doing exactly what we were looking for. They also have a history of fine worldwide distribution in the publishing world. And frankly, the moment they heard Valve was making comics, they knocked on our door ready to the best job possible in representing our IP on store shelves. They make quality product.
TFAW.com: What's your favorite part of your job?
MAO: Free lunch on Thursdays. Artists always love free food.
TK: Actually being paid to think up and write down crazy stuff. Also, everyone at Valve is so good at what they do that I am constantly in awe of my co-workers.
AW: Well, my job is pretty much the biggest scam in the world. I get paid to draw and play video games. Hell, I would have been doing that anyway! But the most rewarding part is working with these people. I'm perpetually inspired and challenged. I can't even begin to explain . . .
TFAW.com: If you could turn any other video game, past or present, into a comic, which would you choose?
MAO: Half-Life. 🙂
TK: Oh, that's easy. I'd love to do comics set in the Half-Life universe. I'd also really love to keep doing more Portal comics.
AW: Is this a rhetorical question?
Our thanks to Oeming, Wicklund, and Kosmatka for a fantastic interview. Come to our Valve signing November 12 in Portland to pick up a copy of Valve Presents: The Sacrifice and Other Steam-Powered Stories and enjoy free beer from Columbia River Brewing Company (21+ with valid ID), complimentary food, and gratis gaming in the store from Ground Kontrol, Old Town Computers, and Valve!

PRE-ORDER VALVE PRESENTS: THE SACRIFICE AND SAVE 20%

RSVP TO OUR VALVE SIGNING ON FACEBOOK

VISIT OUR DARK HORSE MONTH PAGE
What's your favorite Valve game? Post your comments below!
Please follow and like us: