TFAW Interviews Dark Horse's Scott Allie!
We couldn't do Dark Horse Month without interviewing Senior Managing Editor Scott Allie. A Dark Horse veteran of 17 years, Allie not only edits some of DH's most prominent titles, including Buffy Season 9, Hellboy, and B.P.R.D., but he's been busy writing for them as well with this year's Star Wars: Jedi – The Dark Side and B.P.R.D.: The Dead Remembered.
Check out our video interview with him, below. SPOILER ALERT–we do leak some details about upcoming Buffy Season 9, Angel & Faith, and Star Wars comics.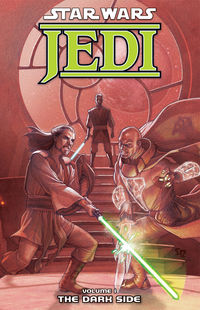 VISIT OUR DARK HORSE MONTH PAGE

SEE ALL OF SCOTT ALLIE'S COMICS AND GRAPHIC NOVELS

SUBSCRIBE TO OUR YOUTUBE CHANNEL
Have you been enjoying Buffy Season 9? Looking forward to more Star Wars: Jedi? Post your comments below!
Please follow and like us: