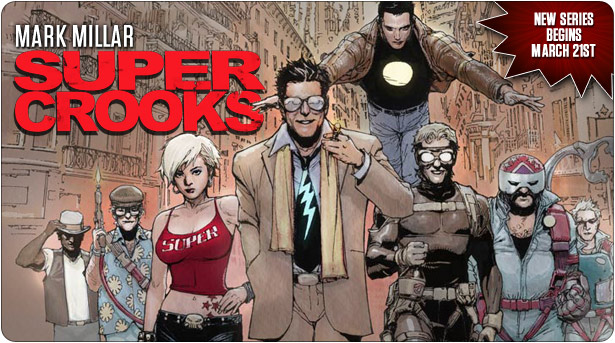 If there's any comic book writer who could write his way out of Alcatraz, we're reasonably certain it's Mark Millar (Superior, Kick-Ass, Wanted). That's why we were super excited to see that he's putting together a new book, Supercrooks, with artist Leinil Francis Yu (Ultimate Comics Avengers, Marvel's Secret Invasion)!
About Supercrooks–
When the market is flooded with competition and the authorities are always on your tail, what's an all-American supervillain to do? Go to Spain, of course! Follow a team of superpowered ne'er-do-wells looking to pull off one last heist in the land of bullfighting and delicious churros.
As with Millar's other books, this one is for mature readers, so get ready for some action!

ORDER SUPERCROOKS #1 TODAY TODAY



SUBSCRIBE TO SUPERCROOKS STARTING W/ISSUE #2



SEE OTHER BOOKS BY MARK MILLAR
Please follow and like us: