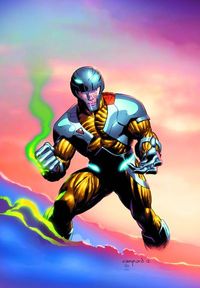 The newly relaunched Valiant Entertainment announced its Pullbox Variant Program, introducing special variants available for pre-order! They're kicking things off with a variant edition of X-O Manowar #1, out May 2, with a cover by artist Cary Nord. Want it? Pre-order it before May 2, and you'll save 20% off the cover price. We also have the standard edition of X-O Manowar #1 available for pre-order, with a fantastic cover by Esad Ribic!
X-O Manowar is back, helmed by New York Times-bestselling author Robert Venditti and Eisner Award-winning artist Nord! Born into battle, Aric of Dacia has never known peace. After an encounter with an enemy known as The Vine, the only hope Aric has of returning to his family is to become X-O Manowar!
X-O Manowar kicks off the publisher's Summer of Valiant, which continues this June with Harbinger #1, by New York Times-bestselling author Joshua Dysart (Unknown Soldier, BPRD) and Harvey Award nominee Khari Evans (Carbon Grey), followed by Bloodshot #1, by Duane Swierczynski (Immortal Iron Fist, Birds of Prey) and artists Manuel Garcia (Checkmate, Spider Man: Breakout) and Arturo Lozzi (Immortal Weapons), in July! Finally, Archer & Armstrong #1 debuts in August, by New York Times-bestselling creative team Fred Van Lente (Amazing Spider-Man, Hulk: Season One) and Clayton Henry (Uncanny X-Men).
All of these comics will be available here at TFAW.com once they're solicited, so stay tuned!

PRE-ORDER X-O MANOWAR COMICS

BROWSE ALL VALIANT ENTERTAINMENT COMICS
Are you as excited as we are to see this? Post your comments below!
Please follow and like us: