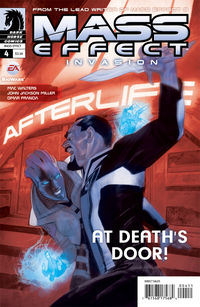 As part of our monthly Product Review Contest, we've picked three reviews and are awarding $25 gift certificates to the people who posted them.
Nicholas from Phoenix is the first of this month's winners. He's written a bunch of great reviews for Mass Effect stuff these last couple months, and we couldn't help but notice his review for Mass Effect: Invasion #4:
Amazing. This story has almost nothing to do with Commander Shepard, but Aria T'loak is a likeable anti-hero in this action packed comic. Cereberus begins to show its true colors as humanity's worst attempt to invade the bastion of sin in the Terminus Systems. A "must read" for any Mass Effect fan.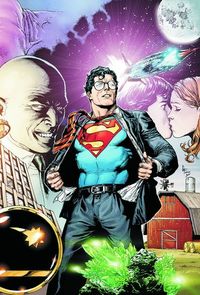 Next up is Ed from Arizona, who wrote some of the most in-depth reviews we've seen in quite some time. Here's an excerpt from his three-star review of Geoff Johns' Superman Secret Origin:
Geoff Johns is an immensely talented writer, and I can understand his desire to kinda/sorta want to put his own creative stamp on the Man of Steel in SUPERMAN: SECRET ORIGIN, but there's a part of me who firmly believes this isn't all he wanted to do with Clark Kent and his alter-ego, Kalel . . . with another Super-flick headed to the box office, methinks the suits probably saw the need for housekeeping, so why not hand the reins to a proven innovator like Johns?
Knowing how the industry tends to re-visit already established characters once more after a major relaunch, perhaps the book is required reading in order to not feel inundated or lost with the monthlies that have followed since this six-issue miniseries came to be.
Still, what Johns accomplishes here isn't so much adding any fresh perspective as it feels like cashing in. I didn't walk away from those same sentiments when John Byrne did it, and I certainly didn't walk away with that sense of disappointment when Jeph Loeb did it with the still stellar SUPERMAN FOR ALL SEASONS . . . couldn't we have brought something "fresh" to the perspective of Superman instead of trampling out another corporate rehash of what everyone already knew? Recommended only for newbies to the Superman universe, as any serious long-term fan has already tackled this stuff elsewhere.
Good stuff, no?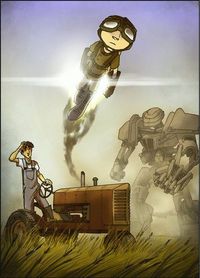 Finally, Logan from Minneapolis stopped in to let us know what he thought about Archaia's Rust HC Vol. 1. Here's what he had to say:
Picked this up @ C2E2'12 and read it on my way back from Chicago. Loved it! Fantastic start to an amazing book series! Artwork is amazing! Can't wait for the next book! Only 4 stars because it's part 1 of a 6 (I believe, or 4) book series. 5 stars once I can read the entire story! Can't wait for the live action movie too!
We want to thank everyone again for sharing their product reviews last month. You guys really do a lot to help other customers each time you submit a review. Thanks for your efforts! You don't have to like the product to snag a winning review, so feel free to rant or gush.
So submit your reviews and help your fellow collectors, and us, sort out the "HOT" from the "NOT"! Who knows, you may be one of next month's winners.
HOW TO SUBMIT A PRODUCT REVIEW:
It's simple! Just visit any product page and look for this:
Click on it and our product review form will appear in a popup. Just fill out the pertinent information and submit your review, and you're done! We'll take a look at your review and get it up on the product page soon thereafter!
There's also a really easy way for you to call up everything you've ever ordered from us and review it. Simply log in to your account and go into the Order History Section. Next to each item, you'll see a "Review it!" link.
Questions? Comments? Let us know below!
Please follow and like us: