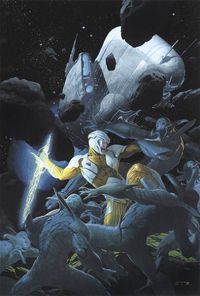 What would it be like to be a man from the 5th Century–in control of technology that far outstrips anything the 21st Century has ever seen? That's the question put forth by X-O Manowar, an original comic book series from Valiant Entertainment.
We held an X-O Manowar Contest that ended earlier this month, and we're excited to announce the winners!
Jacob P. from Buffalo, NY
Bobby K. from Athens, TX
Daniel C. from Carlsbad, CA
Chris E. from Tatum, TX
David M. from Springfield, OR
Ryan G. from Kingwood TX
Justin H. from Rolling Hills Estates, CA
A. Wilson from Reston, VA
Tarik B. from Silverspring, MD
Enrico B. from Blue Grass, IA
Congratulations to our winners! You'll each get a X-O Manowar #1 "talking" QR Voice Variant signed by series writer Robert Venditti, and a copy of Harbinger #1, Bloodshot #1, and Archer & Armstrong #1 as part of the contest! Stay tuned to the TFAW Blog for announcements on another hot contest soon!
Please follow and like us: