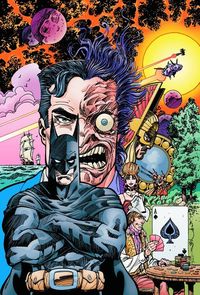 We're really excited about a new original graphic novel coming this fall from legendary writer/artist Walt Simonson (Manhunter, The Mighty Thor).
The centuries-spanning Judas Coin graphic novel shows how one of the silver coins Judas was paid to betray Jesus has had an impact on the DC Universe, with chapters starring The Golden Gladiator (73 A.D.), The Viking Prince (1000 A.D.), Captain Fear (1720), and Bat Lash (1881).
The centerpiece of the book pits Batman against Two-Face in an epic present-day battle, before the story blasts into the future for a final chapter set in the year 2087 starring Manhunter 2070.

PRE-ORDER YOUR COPY FOR JUST $18.39
Are you a fan of Walt Simonson? What do you think about the prospect of this original graphic novel? Let us know below.
Please follow and like us: