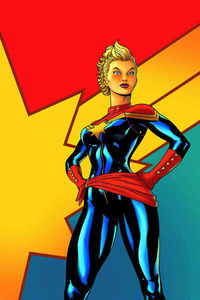 Ms. Marvel has a distinguished career–she's served as a solo hero and is a long-time member of the Avengers. This July, Carol Danvers leaves the Ms. Marvel identity behind and becomes the eponymous protagonist of the new Captain Marvel series by Kelly Sue DeConnick (Castle: Deadly Storm, Osborn) and artist Dexter Soy (Army of Two).
She's back! The "Mightiest" of Earth's Mightiest Heroes! Ace pilot. Legendary Avenger. 100% pure bad-a$$. Carol Danvers has a new name, a new mission . . . and all the power she needs to make her life a living hell.
"I want this to be a book about optimism, about exceeding even our own expectations, about the power of possibility and the seeming magic of flight. C'mon now, people: prove me wrong. Show me that a female-led book about the power of the human spirit [and] the many guises of heroism . . . can break six issues, won't you?"

-Kelly Sue DeConnick on Captain Marvel

ORDER CAPTAIN MARVEL #1 TODAY
Are you a Carol Danvers fan? Been looking forward to a female-led book by a female creator since X-23 disappeared from the shelves? What do you think about Kelly Sue's new Captain Marvel series? Let us know below.

Please follow and like us: