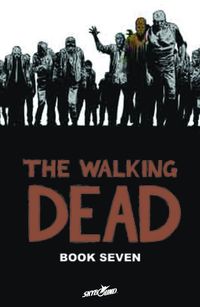 The announcements just keep coming! We're happy to announce that Walking Dead artist Charlie Adlard has stepped up and will donate an original sketch to our Fourth Annual SDCC Autograph Card/CBLDF Auction event! All proceeds from the CBLDF's auction at San Diego Comic-Con go toward supporting the First Amendment Rights of the comics community.
Founded in 1986, the Comic Book Legal Defense Fund provides legal support for comics retailers, publishers, creators, and fans. It's an important cause that we strongly believe in, and TFAW is proud to have helped raise more than $75,000 in the past three years.
Walking Dead, written by Robert Kirkman, dominated the New York Times Paperback Bestseller List in 2011, and the AMC television adaptation has captivated millions of fans. Adlard was kind enough to donate sketches to the CBLDF two years ago–check out 2010's sketches, below.
We'll be showing Adlard's 2012 sketch later this month, so stay tuned! Want you own copy? TFAW will be turning every sketch from this event into free, limited-edition autograph cards that we will be distributing at SDCC this year. Stop by booth #5625 to pick up your set, and make sure to stop by the CBLDF Auction July 14 at San Diego Comic-Con!

BECOME A MEMBER OF THE COMIC BOOK LEGAL DEFENSE FUND

BROWSE CHARLIE ADLARD COMICS AND GRAPHIC NOVELS
Are you headed to SDCC this year? Have you ever attended the CBLDF auction? Post your comments below!
Please follow and like us: