Nothing is off limits (actually, a some things ARE off limits since The Walking Dead #100 just hit the stands yesterday) in this incredibly funny, honest panel featuring the creators behind the comic book series.
SPOILER ALERT! If you haven't been reading Robert Kirkman & Charlie Adlard's The Walking Dead, some important plot points will be spoiled in the SDCC 2012 Walking Dead Panel. Check out the video, below. Our SDCC videos are complete and uncut, so watch at your own risk! Consider yourself warned. Now to the fun stuff . . .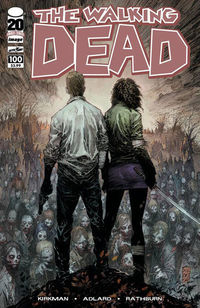 BROWSE ALL WALKING DEAD COMICS AND MORE

WATCH OUR EXCLUSIVE SDCC 12 COVERAGE
We've made it simple to share this video on Facebook and other social media outlets with the social networking buttons near the title. If you wouldn't mind doing us a solid and sharing this video with your friends, we'd be super grateful. Enjoy.
Please follow and like us: