The Firefly 10th Anniversary Panel at San Diego Comic-Con 2012 was definitely one of the highlights of the show! Joss Whedon, Nathan Fillion, Alan Tudyk, Summer Glau, Adam Baldwin, Sean Maher, Jose Molina, and Tim Minear reunited for a hilarious, heartfelt panel that was a complete joy to experience!
Check out the video, below, but beware–you might find yourself tearing up!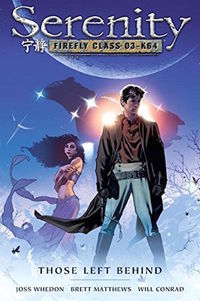 BROWSE SERENITY AND FIREFLY COMICS AND COLLECTIBLES

WATCH OUR EXCLUSIVE SDCC 12 COVERAGE
We've made it simple to share this video on Facebook and other social media outlets with the social networking buttons near the title. If you wouldn't mind doing us a solid and sharing this video with your friends, we'd be eternally grateful. What should we cover next at San Diego Comic-Con? Post your picks below and we'll see what we can do!
Please follow and like us: