Oh yeah! San Diego Comic-Con 2012 has been a blast, but we were excited beyond words to attend the Joss Whedon Dark Horse panel the other day. He talked about his plans for more Serenity/Firefly comics, his post-Avengers plans, and whether or not he'd be up for going back to TV.
Check out the video, below. Panels in SDCC's famed Ballroom 20 are CRA-ZY! SPOILER ALERT! Our SDCC videos are complete and uncut, so watch at your own risk!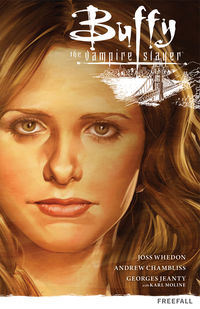 BROWSE ALL JOSS WHEDON-RELATED COMICS AND MORE

WATCH OUR EXCLUSIVE SDCC 12 COVERAGE
PS: Sorry that it took me a couple days to get this panel up. YouTube & iMovie were being super wonky together. Looks like 12th time trying to post was the charm.
We've made it simple to share this video on Facebook and other social media outlets with the social networking buttons near the title. If you wouldn't mind sharing this video with your friends on FB, Twitter, etc. we'd be really grateful. Thanks!
Please follow and like us: