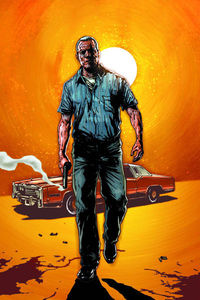 Christos Gage is one of comics' busiest writers right now, with monthly series Angel & Faith, Avengers Academy, X-Men Legacy, and the upcoming First X-Men with Neal Adams on his plate. However, when the opportunity to helm a creator-owned graphic novel dropped in his lap, Gage didn't miss a beat, teaming up with artist Jorge Lucas to create Sunset, a crime noir starring an elderly former mob enforcer who is pulled out of retirement when his past catches up with him.
We had the chance to chat with Gage about Sunset and how he manages to successfully write for multiple genres–check it out, below. We've also got a six-page preview. Read it, and then pick up your copy of Sunset and save 10%. Don't forget the Sunset First Look One Shot for just $.90!
TFAW.com: Can you introduce us to Sunset?
Christos Gage: Sunset is about Nick Bellamy, a veteran in his late 70s who, decades ago, was a leg-breaker for a Vegas mob boss. Realizing the future held little more than a bullet in the head and a hole in the desert, he pulled off "one last heist" to set himself up for life, got his boss sent to jail, and made off with a stash of his money. Nick's lived quietly since then, but now the boss is out and sends his men for revenge. But Nick has kept in shape, and he might just surprise them . . .
TFAW.com: What spurred you to write a crime-noir story at this point in your career?
CG: I actually love the genre. Two of the movies my wife and I have written, The Breed and Paradox (which has only come out overseas so far), were crime noir movies with another genre mixed in, like horror or fantasy. My graphic novel for Vertigo Crime, Area 10, with Chris Samnee, was like that as well. So I guess I had a hankering to do a crime noir story that didn't have another genre in there . . . just pure crime!
TFAW.com: You're a writer who crosses all genres—superhero, horror, and now noir—how do you alter your approach for each, if at all?
CG: I don't have a hard-and-fast rule. I just go by what feels right for the specific story I'm telling, and the artist I'm working with, if I know who that is.
TFAW.com: One thing I've always appreciated about your writing is your ability to create strong, distinct "voices" for each character. How did you create Nick's?
CG: Thanks! Nick's voice is probably just the grouchy old man who lives in my head. 😉
TFAW.com: What intrigues you about Nick? What do you find most interesting about him?
CG: That he's a guy who is violent by nature, but he has tried to temper that, and direct it against those who deserve it, in recent years. He's definitely a morally compromised guy, but he's actually tried to change in his life. In some respects. In others . . . like use of smart phones . . . not so much.
TFAW.com: Sunset was originally supposed to be a monthly miniseries, but is instead being published as an original graphic novel. How will this affect the reader's experience?
CG: Hopefully not at all. As a miniseries, it was always intended to be a complete story, so it's not as if it was cut short or anything. Now you get the whole story in one package, is all!
TFAW.com: Do you have a sequel or continuation in the works?
CG: Not specifically, but if there's interest I'd love to do one . . . or even a prequel!
TFAW.com: Can you talk a little about the differences, as a writer, between creator-owned, publisher-owned, and licensed comics?
CG: For me, there isn't much. I go all out regardless. With creator-owned stories, you have less research to do in terms of getting the characters right . . . you create them, so you make the rules. But then you have to stick to them! In some ways it's easier to make a mistake and have a character do something inconsistent when you haven't been reading or watching them for years.
TFAW.com: What do you have coming up that you're excited about?
CG: Let's see . . . Avengers Academy, X-Men Legacy, the First X-Men miniseries with the legendary Neal Adams hitting August 1, Angel & Faith, and in 2013, a second season of Absolution from Avatar Press!
Our thanks to Christos for taking the time to answer all of our questions! Sunset is in stock now, so make sure to pick up your copy and save 10%.

ORDER SUNSET AND SAVE 10%

SEE ALL CHRISTOS GAGE COMICS AND GRAPHIC NOVELS
What do you think of Sunset? Post your comments below!
Please follow and like us: