Diana Schutz has worked in the comics industry for over 30 years, so we couldn't think of anyone better to kick off a month of interviews featuring some of the most talented women in comics.
We had the chance to chat with the Dark Horse Comics Executive Editor about how she discovered comics, broke into the industry, and the friendships she's made along the way. She also tells us about some of the books on her reading list later in the interview (listen to her, she has really good taste!). Hope you enjoy.
TFAW.com: What are your earliest memories of comics? What was the first comic you read?
Diana Schutz: I don't remember the very first comic I ever read, but the first comics I fell in love with were Otto Binder's Supergirl stories, drawn by Jim Mooney. The cover of Action Comics #252 is seared into my brain: Superman sees a girl flying out of a crashed rocket and thinks it "must be an illusion" — because, y'know, girls can't possibly fly! (That cover art was by Al Plastino, but Jim Mooney drew every Supergirl story for the first ten years.)
In 1959, when Action #252 was published, I was four years old, and in those days children were taught to "be seen and not heard" — especially little girls. Reading comics kept me out of trouble, but Supergirl fed my fantasy; she was everything I wasn't allowed to be — powerful, independent, special. I mean, she was Superman's cousin, which was totally cool, and she was a young teenager, so I could identify with her a lot more than with older female heroes (like Wonder Woman, for instance).
TFAW.com: What inspired you to work in the comic book industry?
Schutz: The heroes, at first. Later, the strange and wonderful ways words and pictures mix to produce story. The "sex, drugs, & rock'n'roll" of the undergrounds. The fight for creators' rights and the struggle of the independents for independence — from New York, from Marvel and DC, and towards a new vision of the industry and the art form.
TFAW.com: How did you break into the comics industry?
Schutz: In 1978 I dropped out of grad studies in philosophy and went to work at The ComicShop in Vancouver, British Columbia, where I'd already been buying my comics for three years. This was in the early days of the direct market, and discovering a store that sold new and back-issue comics was like waking up in Oz.
In 1981, I moved to Berkeley; I'd been offered a job at the Telegraph Avenue branch of Comics & Comix, then a seven-store chain owned by Bud Plant and John Barrett, two founders of the country's very first comic-book store (Seven Sons Comic Shop, which opened in 1968 in San Jose). At C&C, in addition to getting a serious education in the collectible comics market and in underground comix, I began editing The Telegraph Wire, a 32-page bimonthly store magazine featuring creator interviews, comics reviews, and industry news. This was in the days before personal computers, so I wrote or edited, typed, and pasted up every single one of those 32 pages.
But it was probably at the beginning of 1985, when I was hired by Marvel Comics as assistant editor to Ann Nocenti, working on books like Uncanny X-Men, that I felt I'd finally really made it. Which is funny… 'cause I quit that job four days later!
TFAW.com: How did you come to work for Dark Horse Comics?
Schutz: Simple: in 1990 Mike Richardson paid me to move to Portland and work for him.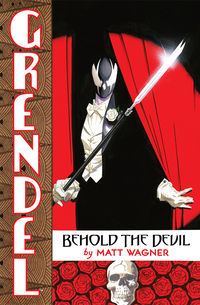 He hired my then-husband Bob Schreck as Dark Horse's Marketing Director, and got me as part of the package: a two-for-one deal! At that time, Dark Horse consisted of only ten people working together in one big room. The only other editor was Randy Stradley, and the only other woman was the receptionist.
Bob and I had also received joint job offers from DC Comics, but this was three years before Vertigo, and Dark Horse's commitment to publishing creator-owned books was a closer fit with our own beliefs and experience in the comics industry.
Bob and I had spent four years, from '85 to '89, at Comico the Comic Company, one of the early independent publishers, where I edited the Robotech titles, Jonny Quest, Bill Willingham's Elementals, Matt Wagner's Mage and Grendel, Dave Stevens's Rocketeer, and Doug Wildey's Rio, among others. Matt, Dave, and Doug followed us to Dark Horse. Matt literally followed us, as he and my sister moved here to Portland about six months after Bob and I did.
TFAW.com: How has your experience been as a female in the industry?
Schutz: A bit like Little Lulu, sneaking into Tubby's boys' club.
When I worked retail, some male customers wouldn't talk to me. In the early days of the direct market, women customers were very unusual, and women working behind the counter were even more rare. At that time, the only women in comics were usually someone's girlfriend.
When I first came to Dark Horse, I found out that the day before I started, Mike forced his almost all-male staff to take down their Playboy pinups from the wall.
Eleven years ago, when I first taught my Comics Art & Literature course at PCC, I had only two girls in a class of 35 students. Now women routinely make up half the class.
TFAW.com: What's your favorite thing working in comics?
Schutz: One day in 1983, a friend of mine took me for a walk through the streets of San Francisco. He was a guest at a small comics convention there, and he ducked out of the show for a few hours. He began telling me about a story he couldn't get out of his head, a story about Batman…only Batman is pretty old, in his sixties, and he's retired from crime-fighting and turned into a drunk. But he doesn't like what he sees in the world out there, which has gotten to be a pretty scary place, and something happens and this aching, ailing, overweight, and middle-aged Batman puts on the cape again. And oh yeah, my friend said, you'll like this part: there's a new Robin, and he's a she.
The stories, and the people who make them — that's my favorite thing working in comics. (Three years later, of course, that story was published as Batman: The Dark Knight Returns.)
TFAW.com: Can you tell us a little about the relationships that you've developed with creators over the years?
Schutz: One Saturday night in 1999, my phone rang at 11:30. It was 2:30 in the morning in Bethesda, Maryland, where a group of indie comics creators, spearheaded by Bob Schreck, were partying at the Small Press Expo. Bob passed the phone to all and sundry, including James Kochalka, who then sang me his Batman song, which I liked so well, he sang it a second time. Maybe you had to be there, but these are the kinds of relationships I have with creators.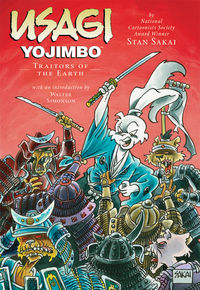 I've been very lucky. I've worked with Frank Miller since 1997 (though we've been friends from the day we met, back in 1981). I was Harvey Pekar's editor for ten years on American Splendor, a groundbreaking title in the history of comics. I've worked with some of my favorite contemporary novelists, editing their comics writing: Harlan Ellison, Michael Chabon, Glen David Gold, Chris Offutt, and of course Neil Gaiman. I've been able to work with some of my dearest friends, like Eddie Campbell, Larry Marder, and Matt Wagner. For seven years I worked as a proofreader on Cerebus by Dave Sim, one of the most talented — and controversial — cartoonists alive. I've now edited well over 100 consecutive issues of Usagi Yojimbo by Stan Sakai, which is a personal record. Both Jeff Smith and Denis Kitchen specifically asked me to be their editor — on The Art of Bone and The Oddly Compelling Art of Denis Kitchen, two big coffee-table books I'm very proud of. I was Barry Windsor-Smith's editor on his beautiful Storyteller series. And from 2000 to 2005, I was incredibly fortunate to be Will Eisner's editor at Dark Horse. I mean, it just doesn't get much better than that.
When Will was in the hospital, about a week before he died, I called him and we had what would be our last conversation. He told me that he felt blessed to have lived the life that he had, to have worked every day at something he loved, and to have worked with people he loved, who shared his passion for comics. I feel the same.
TFAW.com: What do you think comic book publishers should be doing or have been doing to attract female readers?
Schutz: Publishing more than just superhero comics. Look, unlike most women my age, I grew up reading and loving superheroes. I was a Mort Weisinger baby — and went nuts for all those wacky Super-types he edited in the '60s: in addition to Supergirl, there was of course Superman himself, Superman's girlfriend Lois Lane, Superman's pal Jimmy Olsen, Krypto the Superdog, Streaky the Supercat, Comet the Superhorse — the whole Super damn family.
As I got a little older, Marvel offered me superheroes with more emotional depth, thanks to Stan Lee and his two greatest cohorts Jack Kirby and Steve Ditko.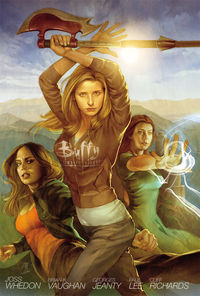 But by my middle twenties, I wanted more than the capes and their punch-'em-ups. In underground comix I discovered women writing and drawing their own (mostly autobiographical) stories, but the undergrounds didn't stick around too long, and they typically published only short stories. In 1982, Fantagraphics published the first issue of Love and Rockets, and the Hernandez Brothers' long-form, real world-based stories really struck a chord with female readers. Dark Horse also had a lot to do with bringing more women into the market, both by publishing English-language translations of many different manga titles and by licensing Joss Whedon's Buffy the Vampire Slayer.
For whatever reason, superheroes traditionally did not appeal to female readers. So we needed different content to bring those readers into the comics market. Now that we have, funnily enough some of them are discovering the capes and realizing that they're pretty cool after all.
TFAW.com: What was the last comic you read?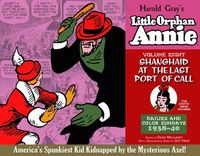 Schutz: I'm right in the middle of Little Orphan Annie Vol. 8. I'm totally into all the great strip reprints of yesteryear, which have only really become possible to publish in the last decade, due to the growing sophistication of digital technologies. Prior to that, only people like Mike Richardson, with his personal collections of actual Sunday comics tear sheets from the early 1900s, could read this kind of work in complete form. Reprints used to be fairly scattershot, and the reproduction quality was poor. But now, there's a wealth of material available from the entire history of comics, and I'm trying to read all of it!
One of my oldest and dearest friends, Dean Mullaney (former publisher of Eclipse Comics, one of the first independents), has been editing/designing/packaging some of the most beautiful collections of newspaper strips through his Library of American Comics imprint, published by IDW: Milton Caniff's Terry and the Pirates; Cliff Sterrett's Polly and Her Pals; Alex Raymond's Flash Gordon; and Harold Gray's Little Orphan Annie, among many others.
Fantagraphics is publishing the entire run of Charles Schulz's Peanuts; Walt Kelly's brilliant Pogo; Elzie Segar's Popeye; and unbelievably beautiful editions of Hal Foster's Prince Valiant, shot from the original engraver's plates. Drawn & Quarterly is publishing Frank King's Walt and Skeezix. All those strip cartoonists of the early 1900s were the real pioneers of comics, and their work is just full of juice! I can't read it fast enough.
TFAW.com: What projects are you working on right now?
Schutz: We just released the new Blacksad: A Silent Hell hardcover by European creators Juan Díaz Canales and Juanjo Guarnido, which is one of my personal favorites. We're wrapping up Fatima: The Blood Spinners, Gilbert Hernandez's four-issue zombie extravaganza. Larry Marder's cooking up the fourth Beanworld book: Something More. Before Paul Chadwick gets back to Concrete, he's drawing the Best Wishes graphic novel, from a story by Dark Horse big kahuna Mike Richardson. Mike is also writing the five-issue 47 Ronin series, drawn by Stan Sakai, based on a true story from the history of Japan.
There are a few Neil Gaiman projects in the works, with artists such as Colleen Doran, P. Craig Russell, and Shane Oakley — and a couple super-secret Frank Miller projects. But right now, designer Cary Grazzini and I are spending most of our time on The Manara Library and Manara Erotica, ten hardcover volumes collecting all of Italian artist Milo Manara's comics in translation. I even took an Italian course to help me edit the scripts, which are being beautifully translated by Kim Thompson. The first volume of The Manara Library just won the Eisner Award for Best U.S. Edition of International Material, so that bodes well.
And in my spare (!) time, I'm juggling some academic projects related to comics. When Mike moved me to Portland 22 years ago, I went back to school part-time and got a Master's degree in Communication Studies; I wrote a thesis on female cartoonists, at a time when almost no one in academia considered comics worth studying — before Scott McCloud's Understanding Comics was published. I started teaching comics art history and criticism courses at Portland Community College in 2002, and the field has really grown since then: now, in addition to my annual Comics Art & Lit course at PCC, there are comics courses regularly offered at Clackamas Community College, Portland State University, Pacific Northwest College of Art, and Reed College. And this fall, due to the efforts of Dr. Ben Saunders, the University of Oregon will be offering an official undergraduate minor in Comics Studies.
TFAW.com: Who's one woman in comics that you admire?
Schutz: I admire too many women in comics to really single out just one, but Trina Robbins was one of my earliest influences and a great help to me in the early '80s, when I was trying to make a place for myself in the industry. Her comics were first published in the undergrounds of the 1960s, and she's probably done more than anyone else to encourage other women, both by setting an example herself and by creating forums for female cartoonists, like the Wimmen's Comix anthology. These days, she continues to promote women in comics by writing books on the subject and by editing reprints of the work of otherwise-unsung female cartoonists of the early 1900s, like Nell Brinkley or Miss Fury creator Tarpé Mills.
Otherwise, in just the last couple weeks, I have read — and recommend — Tangles by Sarah Leavitt, a memoir about her mother's struggles with Alzheimer's; Unterzakhn by Leela Corman, the story of Jewish twin girls growing up in New York City around the time of World War I; Interiorae by Italian cartoonist Gabriella Giandelli, beautifully drawn, odd and dreamy comics as much about people's emotional interiors as about the interior of the apartment building they live in; Alison Bechdel's Are You My Mother?, her second provocative memoir; and the first issue of Kelly Sue DeConnick's Captain Marvel, which she totally knocked out of the park.
I'm also a big fan of Carla Speed McNeil's smart and savvy science fiction comic Finder. In fact, I published Carla's work at Dark Horse back in 2006, in my own anthology of female cartoonists, Sexy Chix, which is still a good introduction to many of the women working in comics today.
TFAW.com: What advice can you give aspiring comic book creators?
Schutz: Work hard. And don't suck.
———————–
We want to thank Diana again for taking the time out of her busy schedule to answer all of our questions! Click on any of the images or links above to see our selection of some of Diana's favorite books!
What did you think of Diana's Dark Knight Returns story? Have you read Fatima or Blacksad yet? What do you think? Let us know below.
Please follow and like us: