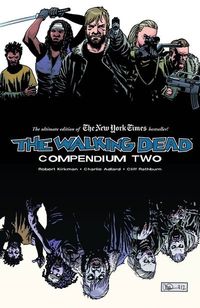 We are excited to let you know that the Walking Dead Compendium Vol. 2 TPB is now available for pre-order! Like the first volume, the massive tome collects four years of the New York Times best-selling series into one huge collection!
This is the perfect collection for any fan of the Emmy Award-winning television series on AMC: over 1,000 pages chronicling the next chapter of Robert Kirkman's Eisner Award-winning continuing story of survival horror–beginning with Rick Grimes' struggle to survive after the prison raid, to the group's finding short solace in The Community, and the devastation that follows . . .
In a world ruled by the dead, the survivors are finally forced to start living. If you thought the first Walking Dead Compendium was good, you'll love this volume!
We've also got first printings of all the Walking Dead #100 issues in stock and ready to ship to you! Don't miss out on this highly collectable issue. If you came into the series with #100 and missed the beginning of this explosive arc, we're also offering second printings of issues #97-99.

ORDER YOUR WALKING DEAD COMPENDIUM TODAY

SEE ALL OUR WALKING DEAD PRODUCTS
Please follow and like us: