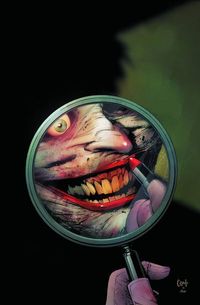 The Joker returns in "Death of the Family"–Scott Snyder's new story arc starting in Batman #13 this October.
He crippled Batgirl. He killed Robin. What will the Joker do now that he's returned to Gotham City? What must Batman do to protect his secret identity and that of those who fight alongside him?
Critics and fans agree, Scott Snyder's run on Batman has been one of the strongest series in DC's The New 52 relaunch. If you've missed out on the first arc, don't make the same mistake again. Don't wait for the trade. Get that feeling of excitement each month and start a Batman subscription today!

ORDER YOUR COPY OF BATMAN #13

START A BATMAN SUBSCRIPTION AT TFAW
Please follow and like us: