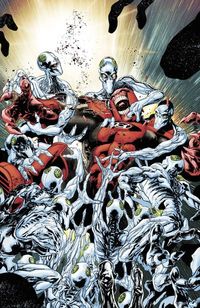 Big things are in store for the Lantern family of books this October. BIG THINGS. The epic Rise of the Third Army event will span all of the Lantern books, and we'll be introduced to the Third Army. Once upon a time, the Guardians formed the Green Lantern Corps with the idea that they would protect the Universe. As the Guardians lose faith in the Corps, they summon the Third Army to wipe out the Corps.
What is the Third Army, and how will our favorite ringslingers weather this coming storm? Who is the new Earth-born Lantern? What is the role of the First Lantern in all of this? Find out this October!
You can order all four crossover issues today–just visit our special Rise of the Third Army page to see all the issues.

VISIT OUR RISE OF THE THIRD ARMY PAGE
Please follow and like us: