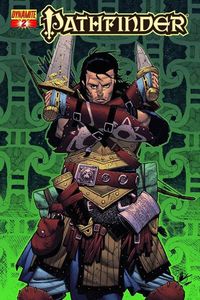 Paizo Publishing's Pathfinder game is one of the most popular and successful fantasy roleplaying games in the world. Designed to be backward-compatible with Dungeons & Dragons 3.5, it's won millions of fans and created a whole new world for them to explore.
Dynamite Entertainment's Pathfinder comics are set to be just as addictive as the original game, created with the full participation of Paizo. Written by Jim Zub (see our interview with him and Paizo's Erik Mona) with the dynamic artwork of Andrew Huerta, issue #1 got a lot of buzz.
We had the chance to interview Andrew Huerta this month and picked his brain about the most difficult part of bringing Pathfinder to life in comics and what he'd like to do next! Plus, enjoy the five-page preview of Pathfinder #2, give to us by our friends at Dynamite!
TFAW.com: How did you become involved with the Pathfinder comics?
Andrew Huerta: [Pathfinder writer] Jim Zubkavich found me on Deviantart and was a fan of my artwork. When Dynamite hired Jim to be the writer for Pathfinder and they didn't have an artist for the book yet, he recommended me along with some other artists. I sent Dynamite some samples with some character designs, and the rest is history.
TFAW.com: Had you played the game previously?
AH: I have not. One day I hope to remedy that, though.
TFAW.com: How closely involved was Paizo when it came time to design the characters, etc.
AH: There hasn't been much designing on my part. Everything I've drawn has already been designed by Paizo and their various artists. I mostly just look at the game books and Internet for reference to make sure everything stays consistent with the comic and game.
TFAW.com: What were the most challenging aspects of creating this world?
AH: The toughest part for me is trying to make Pathfinder feel and look epic. Another thing is making Pathfinder look familiar and unique at the same time, but also try to make it feel like this world could really exist.
TFAW.com: What's your favorite type of scene to draw?
AH: I like the quiet scenes that don't have any dialogue. It puts all of the storytelling weight on the art alone, so I have to make sure everything from the expressions, pacing, and body language is on point.
TFAW.com: How did you get started drawing comics?
AH: I started as a freelance artist drawing a lot of indy books and various commission work. One job lead to another, and now I'm finally here.
TFAW.com: Who are some of your favorite artists?
AH: There are too many. I love any of the Japanese artists on properties like Final Fantasy, Xenogears, Legend of Zelda, and Breath of Fire. Guys like Frank Frazetta, Joe Madureira, Akira Toriyama, Yoshitaka Amano, Moebius, Bengus, and Kentaro Miura. I try to figure out why their work has so much appeal and apply that essence and energy into my work. I'm also figuring out how to maintain the quality in my art while still being fast.
TFAW.com: What comics are you reading right now?
AH: Invincible, Bloodshot and Pathfinder.
TFAW.com: What type of project would you like to tackle next?
AH: I love working on well-known properties and other people's ideas, but I've been really getting the urge to work on my own stories. I have a few ideas and one day I hope I get the chance to bring those ideas to life.
Our thanks to Andrew Huerta for a great interview. Still haven't read the new Pathfinder comics? Issue #1 is still available on our site: order it, and issues #2 through #4 today!

ORDER PATHFINDER COMICS & SAVE 10-20%

READ OUR PATHFINDER INTERVIEW WITH JIM ZUB AND ERIK MONA
Which comic books are you looking forward to this week? Post your comments below!
Please follow and like us: