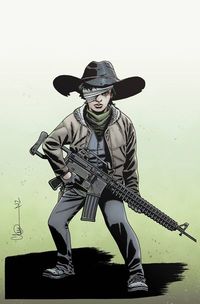 Due to forces outside of our control, Things From Another World and the Hollywood Theatre regretfully announce that we are canceling our free weekly screenings of The Walking Dead Season 3, effective immediately.
TFAW has sponsored free screenings of The Walking Dead with hosts cortandfatboy for two and a half seasons, and we're greatly saddened to cancel this popular Portland event, after the Hollywood Theatre received a cease-and-desist letter.
"We've had a great run with The Walking Dead, and we are still huge fans of both the comics and the television show," said TFAW Senior Director of Retail Operations Andrew McIntire. "It's allowed us to reach out to the community in a unique way, and we're grateful for all of the awesome people we've met through this. We're sorry to disappoint anyone, but we have no choice in the matter."
Stay tuned for future events: Follow us on Twitter at @TFAW or Like us at Facebook.com/ThingsFromAnotherWorld for further updates.

BROWSE WALKING DEAD COMICS, GRAPHIC NOVELS, AND MORE
Please follow and like us: