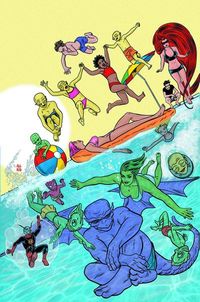 I don't know about you, but I'm in the mood for a funny book that's actually — well, fun. Don't get me wrong, books like Batman, Age of Ultron, Mind MGMT, Revival, and Aquaman are all amazing books that I look forward to reading each month (or each week with Ultron), but every once in awhile, I'm looking for a fun romp that won't tax me emotionally. That's why Matt Fraction's FF is so great.
One look at the Mike Allred's covers, and you get a feel of what this series is. FF #9 is about a pool party — not really the high-stakes action and adventure of the newest issue of Justice League or Avengers, wouldn't you say?
You'd think that a team consisting of C- and D-list characters wouldn't hold your attention for more than a few issues, but Fraction writes a hell of a comic here, and Allred's unique artistic style complements the story really well.
We want you to check out this Marvel NOW! title, so we're offering FF #9 at 35% off the cover price when you pre-order your copy by April 30 as part of this month's Featured Discounts promotion. We think you'll dig this book even if you haven't been reading along. Isn't it about time you took a break from the doom and gloom and cooled down with a good old-fashioned pool party?

PRE-ORDER YOUR COPY OF FF #9 FOR $1.94 THRU 4/30

SAVE BIG ON ALL THIS MONTH'S FEATURED DISCOUNTS
Have you been reading FF? How do you think of Fraction's run compares to Hickman's? Post your comments below.
Please follow and like us: