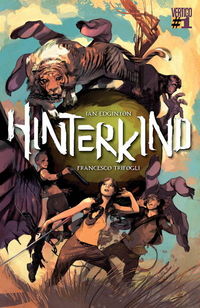 One of Vertigo's most exciting upcoming series is The Hinterkind, by writer Ian Edginton (Batman: No Man's Land, Aliens) and Francesco Trifogli (Mystery in Space).
Decades after The Blight all but wiped out the human race, Mother Nature is taking back what's hers, and she's not alone . . . The Hinterkind have returned.
Who are The Hinterkind, and what will their return mean for the last remnants of humanity who struggle to survive in a world gone wild? We asked that question and several others of Edginton, who introduced us to the book as well as Prosper and Angus, two teenage friends who venture out of the safety of their village, unaware of the dangers they will face!
Check out our interview, below, as well as a five-page preview of The Hinterkind #1, courtesy of DC Entertainment!
TFAW: What was "The Blight"?
Ian Edginton: It's the unspecified biological event that wipes out 98% (or thereabouts) of the human race in a matter of weeks. It's unspecified because no one survives long enough for it to be studied and examined thoroughly. It's uniquely infectious, there's no defense against it. After it's done its work, those who are left are more concerned with trying to survive in what's left of the world than investigate what caused it.
If it sounds a but like handy-dandy plot device to neatly provide a convenient apocalypse, it is — but it's also much more. I have to tread carefully here because I don't want to give too much away, but as the story progresses, we'll discover that The Blight is more than a nifty plot device, it's fundamental to the whole return of The Hinterkind.
TFAW: Who are The Hinterkind?
IE: It's a catch-all title that covers scores of different races, creeds, and cultures. There are Centaurs, Satyrs, Sprites, Elves, Dwarves, Ogres, Trolls, Vampires, Werewolves, and many, many more besides. They're a myriad menagerie that mankind has used to hang its tales of myth and magic upon. In darker, less enlightened times, it was mankind's way of rationalizing the irrational, but these aren't fairytale creatures as we know them, they are beings and beasts of flesh, blood, and passion.
The Hinterkind are a divergent species. Exotic, evolutionary "try-outs" that couldn't compete with the rapacious ape. Hunted to near extinction through fire, fear, and pogroms, they fled to the great forests and deserts, losing themselves in the shrinking wilderness of an ever-expanding world.
Part of my thinking behind the history of The Hinterkind is the theory that Neanderthals and Cro-Magnon man existed at the same time. That they interacted, inter-bred or (in the Neanderthals' case) were wiped out by their evolutionary neighbors. Suppose then, we make a leap and say that the creatures we built our myth and legends around actually existed, too? Red in tooth and claw, hunted and hounded to the edges of the world. Now their fortunes have turned and the world is theirs for the taking.
The word hinterkind is derived from the word hinterland, which comes from the German meaning the "land behind" or the hind land.
It's the wilderness or back-country. In the story it's what the world's become, green and overgrown. The Hinterkind themselves have lived in the wilderness, at the edges of the developed world for centuries, but now that the world is the wilderness, they've come back to claim what's theirs.
TFAW: The cover to issue #1 is reminiscent of Fables, but the solicitation copy warns that "these aren't childhood fairytale creatures." How does The Hinterkind compare to Fables overall?
IE: It's like apples and pears, they're similar but different. The fundamental difference between the two is that The Hinterkind doesn't have the fantasy element of Fables at all. The Hinterkind themselves look fantastical, but that's about as far as it goes. The world has slipped back into a dark age, which was when they last walked abroad unmolested, so there is very much a tribal, feudal, medieval feel to everything. The Hinterkind are governed by what tribe, family, caste, or clan they're born into. Life is perilous, short, and bloody, especially if you're human. There's a treacherous uncertainty to it all. Heroes will do terrible things to further their cause, villains will perform acts of kindness, and characters you grow to love will die in sudden, sometimes stupid and violent ways that you didn't see coming.
TFAW: What can you tell us about Prosper and Angus?
IE: They're friends in their late teens. They grew up together. Asa Monday, Prosper's grandfather, is the village doctor. Her parents died when she was a baby and he's raised her on his own, so they're very close. Angus is the sister of Sophie Chung, who Asa's training to be his replacement.
Prosper and Angus are like brother and sister. They love each other. They fight. She's gets them into trouble that he has to get them out of. They're children of the new world. We're so media savvy and saturated these days, we can't imagine what it would be like without cell phones or social networking, but this is their world. We walk down the street, heads lost in a little screen, often tuning in on world-wide events but ignoring the people around us.
For Angus and Prosper, they know everyone in their village. Their lives and welfare are inextricably linked to those of their neighbors. They're connected to their friends and family in ways that we don't seem to be anymore. Ways we might find intimate and intrusive. Plenty of us might remember our grandparents saying that they used to be able to leave their doors unlocked without fear of anyone breaking in? It's that kind of place.
This also means they don't have the prejudices and paranoia that life in our time brings with it. They're not innocents, they know how dangerous their world can be, from getting cut and catching tetanus, to being eaten by bears or Ligons. They're both wary of the wild and respect it, but they're not afraid of it, until they learn about The Hinterkind, of course!
When Angus decides to leave the village (I can't say why) Prosper doesn't think twice about going with him, even if he doesn't want her to at first. However, there also comes a time, that no matter how close you are to your friends, you have to walk a different path, and that time is fast approaching for Angus and Prosper.
TFAW: In The Hinterkind, nature has taken back the earth from humankind, and the preview pages show very striking images of New York City overgrown with trees. Was there something specific that inspired this?
IE: Absolutely. The way the world has changed post-Blight is an important part of the story. Without us being around to maintain our "civilized "world, Mother Nature will take back what's hers with a vengeance. There was a National Geographic documentary, World Without People, that charted how quickly the major cities of the world would fall into decline and decay if people weren't around to maintain them. Once nature and the elements gain a foothold, it doesn't take long for things to start falling apart. I used that idea as a springboard for the way the world of The Hinterkind would look.
New York itself is massively overgrown. The survivors, those who stayed behind in the city, have established a village in Central Park. They've turned the meadow into farmland, built houses from what they've been able to salvage from the city around them, which as you might expect, is quite a bit. They've stayed in the city, on Manhattan Island, primarily because of that — it's an island. During the dark days as The Blight gripped the world, there were bands of marauders and rogue military who would raid, plunder, and kill communities. Being on an island, especially as the tunnels flooded and bridges became overgrown, has afforded them a unique sense of security and isolation.
TFAW: What other changes have come about, thanks to The Blight?
IE: The Blight has meant the effective removal of mankind from their place as kings of the hill, which means the Hinterkind have moved in and the various clans are jockeying for that top spot. The favorite contenders are the Sidhe, what we would call Elves. Of all The Hinterkind, they're the most powerful, organized, and politicized culture. With humanity gone, they have the mechanisms in place to quickly re-establish their empire, which they can develop and expand in ways undreamt of when humans were around. Then there are the Centaur clans in the Midwest, the Ogre-kin and so on. They're all carving up America in their own way, but when the edges of their empires brush against each other, that's when the trouble starts.
TFAW: How did Francesco Trifogli enter the project, and what's the greatest advantage of having him?
IE: [Editor] Will Dennis got in touch to tell me he'd found this amazing artist. He sent me some samples of Francesco's other work and I was blown away. I told Will, "Yep, he's our guy," and that was that. Job done. Francesco's been great at taking all the ideas I've flung at him and coming up with this amazing art. You forget, we're world-building on a huge scale. There's not only the over-grown America to design, but all the people of The Hinterkind! That's a massive undertaking, and Francesco's admirably stepped up to the plate. I'm worried about working the poor guy so hard that he just keels over!
TFAW: What else are you excited about?
IE: I'm looking forward to the New York Comic Con next month. Sitting in my office at the top of the house writing the scripts is one thing, but to finally be let loose into the wild to talk about the book is going to be exhilarating and not a little scary. This kind of job has a habit of making you something of a borderline agoraphobic, so the thought of talking in front of a crowd is a tad unnerving.
I've also been working on the next series of Brass Sun with I.N.J. Culbard (New Deadwardians) and Stickleback with D'Israeli (Sandman) for 2000AD. I'm also working on a Judge Dredd run with Dave Taylor (Batman: Death by Design). I've not long finished writing a 200-page graphic novel adaptation of Children's Laureate Malorie Blackman's young adult novel Noughts & Crosses. I also have a television project in the works and that's progressing nicely.
Big thanks to Ian Edginton for answering all of our burning questions! Make sure to pre-order The Hinterkind #1 and #2 to save 20-35%, and check out all of Vertigo's cool new series.

ORDER THE HINTERKIND NOW AND SAVE 20-35%
Are you looking forward to The Hinterkind? What do you think of our preview pages? Post your comments below!
Please follow and like us: