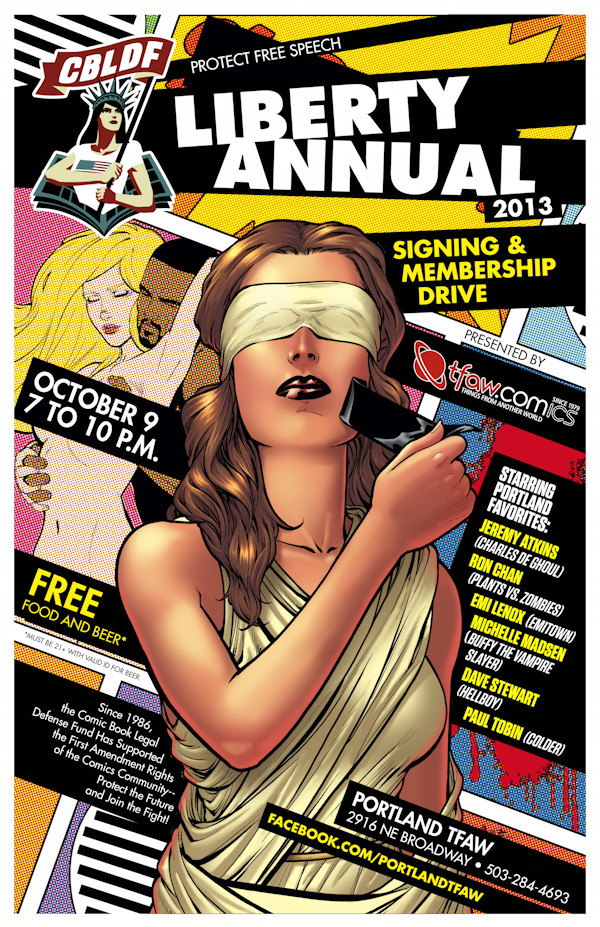 The Comic Book Legal Defense Fund (CBLDF) has fought for the First Amendment Rights of the comics community since 1986. Now here's your chance to join the fight for free speech at our CBLDF Liberty Annual 2013 signing and membership drive October 9 at the Portland TFAW!
Meet the contributors to Image Comics' CBLDF Liberty Annual 2013, including Jeremy Atkins (Charles de Ghoul), Ron Chan (Plants vs. Zombies), Emi Lenox (EmiTown), Michelle Madsen (Buffy the Vampire Slayer), Dave Stewart (Hellboy), and Paul Tobin (Bandette), and learn how you can join the CBLDF for as little as $25! Complimentary food and beer (for those 21+ with valid ID) provided.
Bonuses Courtesy of Dark Horse Comics:
Sign up for CBLDF membership at the $50-$249 level to receive a Lone Wolf and Cub Volume 1 Limited Edition hardcover, while supplies last!
Sign up at the $250 or greater level to receive a Give Me Liberty hardcover, signed by Frank Miller and Dave Gibbons, also while supplies last!
These bonuses are in addition to the CBLDF's own membership incentives, which include T-shirts, sweatshirts, buttons, and more. Plus, the CBLDF has donated extras of these items for our raffle, which will take place during the event! Make sure to RSVP now.

RSVP FOR OUR CBLDF LIBERTY ANNUAL 2013 SIGNING AND MEMBERSHIP DRIVE
Are you a member of the CBLDF? Post your comments below!
Please follow and like us: