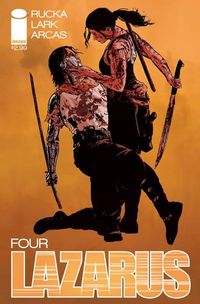 Wow! With so many fantastic product reviews to choose from last month, it was nearly impossible to narrow the field down for this month's picks. Nevertheless, we've picked three of our favorites as part of our monthly Product Review Contest. Below, you'll see who won from October's Product Reviews. $25 TFAW gift certificates are on the way to the folks who posted them.
Jason from Gresham, OR stopped by with his five star review of Greg Rucka's Lazarus #4:
Lazarus is an action-packed and drama-fueled series that writer Greg Rucka continues to deliver flawlessly each month. This issue marks the end of the first arc in this amazing series, so do yourself a favor and buy this and it's back-issues or pick up the soon-to-be-released trade paperback. You won't regret it.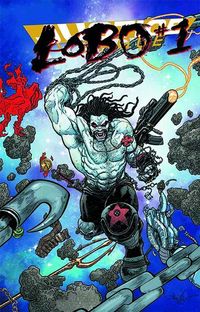 Our second winner is Justin, is currently serving in the United States Navy. He had this to say about one of the many Villains Month tie-ins, Justice League #23.2 Lobo:
Horrible book. It wasnt even real Lobo (real Lobo is only on the cover) this book features fake, hitting on drunk chicks at some bar, looking like he got rejected from an Asian biker gang Lobo wannabe. "Sorry. Not sorry." What the hell does that even mean? I dont have a clue, but fake Lobo thought it was clever enough to use on every other page of this book. If you buy this stinker, you'll be sorry, that's for sure.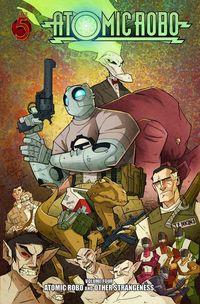 Last but not least, Jerrod from Wichita, KS wrote a review for the Atomic Robo TPB Vol. 4 Other Strangeness that we had to share:
A talking robot, built by Nikola Tesla, battles vampires from another dimension and an insane, uzi-carrying, mad scientist velociraptor. If that doesn't convince you to pick up this book, I don't know what will!

Thanks so much to everyone who wrote reviews last month. You're helping people decide what to get (or what to avoid) next.
Remember, you don't have to write a novel to win. Product reviews can be short and sweet, or highly detailed — as long as they help other customers, that's what we're looking for. So submit your reviews and help your fellow collectors sort out the "HOT" from the "NOT"! Who knows, you may be one of next month's winners.
HOW TO SUBMIT A PRODUCT REVIEW:
It's simple! Just visit any product page and look for this:
Click on it and our product review form will appear in a popup. Just fill out the pertinent information and submit your review, and you're done! We'll take a look at your review and get it up on the product page soon thereafter!
There's also a really easy way for you to call up everything you've ever ordered from us and review it. Simply log in to your account and go into the Order History Section. Next to each item, you'll see a "Review it!" link.
Questions? Comments? Let us know below!
Please follow and like us: