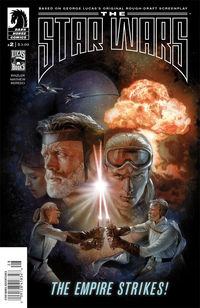 Great Odin's Raven! With so many amazing product reviews to choose from last month, it was nearly impossible to narrow the field down for this month's picks. However, we've sifted through the hundreds and hundreds of great reviews and hand picked three of our favorites as part of our monthly Product Review Contest. Below, you'll see who won from December's Product Reviews. $25 TFAW gift certificates are on the way to the folks who posted them.
Jeff from Charleston, WV stopped by with his five star review of Dark Horse Comics's The Star Wars #2 :
I've always wanted to see this attempted, to see it so fully realized is great. Interesting to see so many earlier characters and situations from the movies and their original place in Lucas' earlier version. It really makes you realize how Episodes I-III are more like Lucas' original vision of the saga.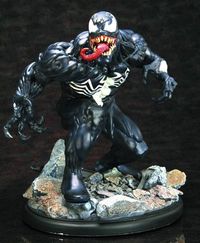 Our second winner is Thomas from Rancho Cucamonga, CA. He had this to say about the Amazing Spider-Man Venom Unbound Fine Art Statue:
Great detail on this statue sculpted by Erick Sosa based on the good old Mcfarlane Venom I grew up on. This isn't the skinny Topher Grace Venom that today's silly kids know from the movie. Sosa's sculpt is a little bit over the top in the muscle department, looking like a bodybuilder all jacked up on juice; of course, old Eddie Brock was hitting the weights rather hard after he lost his job due to web head, so I think it fits perfectly. Five stars for the statue and five stars for the great packing job and speedy delivery from TFAW. I used to frequent the Beaverton store about 25 years ago back when it was Pegasus Comics and Pat ran the show. Unfortunately, I had to move to California. I had such fond memories of the place that I visited it a couple of years ago in a road trip. Double thumbs up!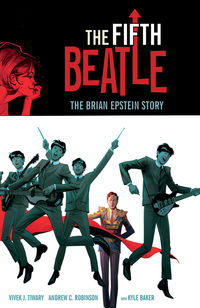 Last but not least, John from East Hartford, CT wrote a review for the Fifth Beatle: The Brian Epstein Story Limited Edition by Vivek J. Tiwary that we had to share:
It is no accident that this book rocketed to number 1 on the New York Times best seller list. Both imaginative and colorful, it deals with the man dedicated to seeing the Beatles become bigger than Elvis — Brian Epstein. The author of this book will be bringing this story to the cinema soon and I am sure his efforts have helped Brian Epstein secure a well deserved place in the Rock and Roll Hall of Fame.

Thanks so much to everyone who wrote reviews last month. You're helping people decide what to get (or what to avoid) next.
Remember, you don't have to write a novel to win. Product reviews can be short and sweet, or highly detailed — as long as they help other customers, that's what we're looking for. So submit your reviews and help your fellow collectors sort out the "HOT" from the "NOT"! Who knows, you may be one of next month's winners.
HOW TO SUBMIT A PRODUCT REVIEW:
It's simple! Just visit any product page and look for this:
Click on it and our product review form will appear in a popup. Just fill out the pertinent information and submit your review, and you're done! We'll take a look at your review and get it up on the product page soon thereafter!
There's also a really easy way for you to call up everything you've ever ordered from us and review it. Simply log in to your account and go into the Order History Section. Next to each item, you'll see a "Review it!" link.
Questions? Comments? Let us know below!
Please follow and like us: