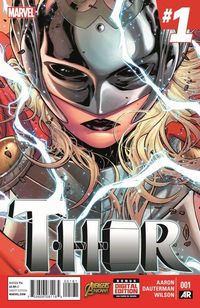 Every month, our customers submit hundreds of product reviews that help others determine how great (or not-so-hot) certain comics, graphic novels, and other collectibles are. We took a look at the reviews that were submitted in October and are awarding $25 gift certificates as part of our monthly Product Review Contest. And the winners are (insert drum roll here):
Our first contest winner is Coniah in Tacoma, WA! Coniah wrote a review for the all-new Thor #1 caught our eye:
If you've been out of comics for a while or not following the main Thor title, this issue does a good job of helping catch you up to the most recent events leading up to Thor Odinson's being unworthy of Mjolnir, and there's a great sense of action and scale as well. Overall, it's a pretty solid issue with only one drawback, in my opinion, not enough of the new Thor.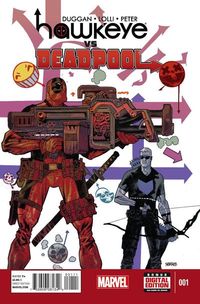 Our second winner is Mary from Manhattan, KS. She had this to say about Hawkeye vs. Deadpool #1 (of 4):
If I could give this six stars, I would. HAWKEYE. DRESSED UP AS HAWKEYE FOR HALLOWEEN. Also: plot thickening, villains somewhat revealed, and shenanigans. Love this series!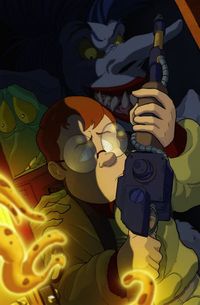 Last but not least, John from South Dartmouth, MA dropped by to share his thoughts about the new Ghostbusters #15 (Subscription Variant):
I have been a GB fan since I was a kid and was very excited for the comic book series when it came out. Good story in the spirit of the original movies. I love how some of the variant covers are throwbacks to not only the original movies but the Real Ghostbusters cartoon series like this cover.

Thanks so much to everyone who wrote reviews last month. You're helping people decide what to get (or what to avoid) next.
Remember, you don't have to write a novel to win. Product reviews can be short and sweet, or highly detailed — as long as they help other customers, that's what we're looking for. So submit your reviews and help your fellow collectors sort out the "HOT" from the "NOT"! Who knows, you may be one of next month's winners.
HOW TO SUBMIT A PRODUCT REVIEW:
It's simple! Just visit any product page and look for this:
Click on it and our product review form will appear in a popup. Just fill out the pertinent information and submit your review, and you're done! We'll take a look at your review and get it up on the product page soon thereafter!
There's also a really easy way for you to call up everything you've ever ordered from us and review it. Simply log in to your account and go into the Order History Section. Next to each item, you'll see a "Review it!" link.
Questions? Comments? Let us know below!
Please follow and like us: