Does your favorite fan have a thing for strong female characters that wield a Lasso of Truth, really big hammers, or a good sharp stake? Then we have the list to help you find that special gift!
These lovely ladies are not waiting around for someone to swoop in and save the day–they've got it covered. TFAW is pleased to present 7 of our top Damsels that are taking care of business themselves. To paraphrase Aretha Franklin: thank you they'll do it themselves.
#1 – Wonder Woman – Queen of the Amazons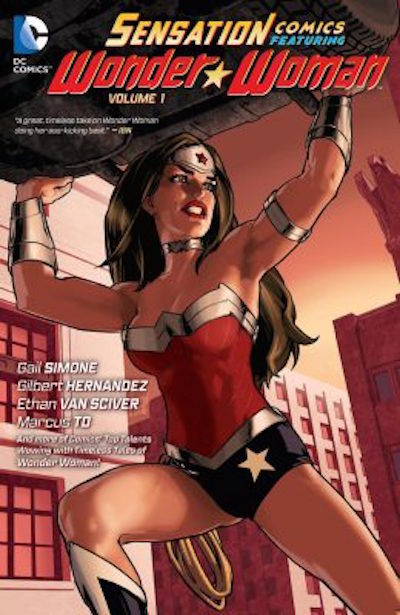 Not only can she hold her own, but sometimes she's the one to swoop in and save the day when Superman and Batman can't hack it. Check out this amazing Woman with a capital "W" out in the latest Sensation Comics series:
Sensation Comics Featuring Wonder Woman TPB Vol. 1
Your Price: $13.49
By: Gail Simone, Ethan Van Sciver, Phil Jimenez
This book collects Sensation Comics Featuring Wonder Woman #1-5 starting with a call from the oracle because all the Bat-heroes are on the sidelines.
Sensation Comics Featuring Wonder Woman TPB Vol. 2
Your Price: $13.49
By: Jae Lee
Diana and Cheetah battle over a phoenix egg, a space mission to represent the Justice League, and a teenaged Diana takes a trip to Man's World all in this exciting collection.
Click for other in-stock  Wonder Woman Gifts or click to visit her Theme Page .
#2 – Harley Quinn – Our Favorite Unbalanced Villainess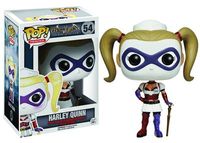 While she might be a recurring resident at Arkham Asylum, this petite gal in red and black motley carries a big hammer, a mean punch, and a huge torch for the love of her life, Mr. J aka the Joker. She's not even afraid of a big, six-foot, rat–I mean bat–that likes to ruin the plans of her and her Puddin'.
Arkham Asylum Harley Quinn POP! Vinyl Figure
Your Price: $9.89 (Stock May Be Limited)
One of the many newer POP! Vinyl figures from DC's Batman Universe.
Click for other in-stock Harley Quinn Gifts .
#3 – Mighty Thor – Wielding the Hammer Because SHE is Worthy!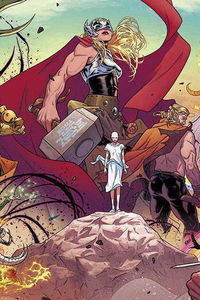 After the new Thor picks up the mighty Mjolnir, she is transformed into the Goddess of Thunder! Her new godhood comes with threats of war through the Ten Relms, more enemies, and even more personal threats. Check out this new issue 2015 #1 or the Premium Hard Cover that collects Thor 2014 Issues #1-5.
Mighty Thor #1
By: Jason Aaron, Russell Dauterman
Your Price: $4.49
Thor Premium Hard Cover Volume 1 Goddess of Thunder
By: Jason Aaron, Russell Dauterman
Your Price: $14.99
Click for other in-stock Mighty Thor Gifts .
#4 – Buffy the Vampire Slayer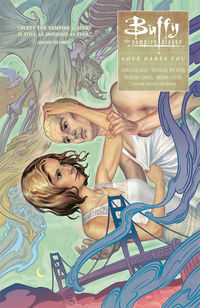 When you spent your high school years next to a Hellmouth you pick up certain skills in order to survive. Buffy has spent ten seasons putting a whole host of vampires and demons to rest personally. Catch up to the Slayer with these issues:
Season Ten Vol. 3 — Love Dares You TPB
By: Christos Gage, Nicholas Brendon, Rebekah Isaacs,
Megan Levens, Dan Jackson, Steve Morris
Your Price: $17.09
 Click for other in-stock  Buffy Gift Ideas
#5 – Spider-Gwen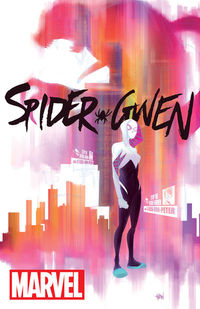 Imagine if Gwen Stacy not Peter Parker was bitten by a radioactive spider. Then take that story, add an amazing costume design, and then turn everything in her particular Spider-Verse a few degrees from what you might expect, and you end up with the fun and full-of-energy Spider-Gwen:
Spider-Gwen #1
By: Jason Latour, Robbi Rodriguez
Your Price: $3.59
Click for other in-stock Spider-Gwen Ideas
#6 – Lara Croft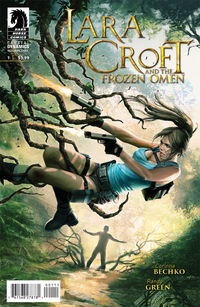 Some characters are lucky enough to become icons. Lara Croft is one of them. One part Indiana Jones, one part Black Widow, and a heady mix of pulp adventure; Lara has taken that formula and created a fan base all her own. Catch up with these titles:
Lara Croft and the Frozen Omen #1
By: Corinna Bechko, Randy Green, Andy Owens,
Michael Atiyeh, Jean-Sebastien Rossbach
Your Price: $3.59
#7 – Rat Queens
Last but not least, if you are a Dungeons and Dragons or a Pathfinder fan, and haven't read Rat Queens ; you're missing out. This pack of booze-guzzling, death-dealing battle maidens-for-hire, are guaranteed to win you over. Funny, violent, smart, check out the Rat Queens here:
Rat Queens #13
By: Kurtis J. Wiebe, Stjepan Sejic
Your Price: $3.59
Click for other in-stock Rat Queens Ideas
Still not sure what to get? A TFAW Gift Certificate is a one-size-fits all treat, or feel free to contact us directly via Live Chat at TFAW.com. You can also call us at 800-862-0052 or email us, and we'll be glad to help you select the perfect gift for that special geek in your life. – See more gift list ideas at the
TFAW Blog
.
Please follow and like us: