The entire galaxy is infected with Star Wars mania, including everyone here at TFAW headquarters. We put together a list of gift ideas for Star Wars fans that includes everything from comics to figurines with prototype armor.  So if you're looking for the perfect gift for the Star Wars fanatic in your life but can't tell a bantha from a wampa?  Our Star Wars Gift Guide is here to help!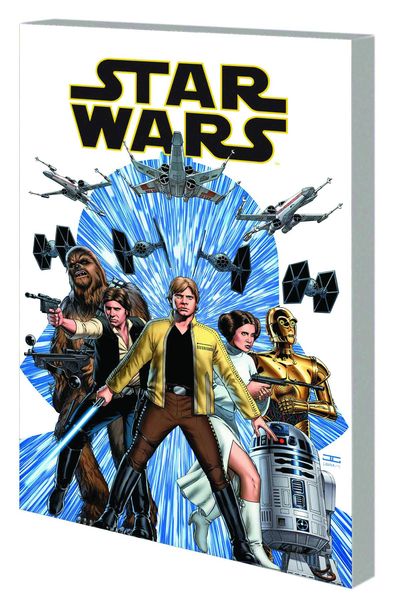 Star Wars TPB Vol. 01 Skywalker Strikes By: Jason Aaron, John Cassaday Your Price: $17.99 The new Marvel Star Wars comics start here.  They brought out the big guns for this series as top writer Jason Aaron (Mighty Thor, Doctor Strange) and superstar artist John Cassaday (Planetary) come together to tell the tale of everyone's favorite rebels in the aftermath of the destruction of the Death Star!  Follow the adventures of Luke Skywalker, Princess Leia, Han, Chewy and the droids as they continue to fight the good fight against the Empire.  Darth Vader, Boba Fett and more continue to menace our heroes in Marvel's explosive opening salvo.
Star Wars Darth Vader TPB Vol. 01 Vader By: Kieron Gillen, Salvador Larroca, Adi Granov Your Price: $17.99
There are two sides to every story. And fans have always wanted to see the story from Darth Vader's perspective. Well, Marvel's got them covered with a story line from the Sith Lord's viewpoint.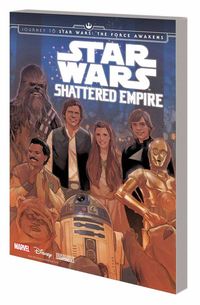 Journey To Star Wars The Force Awakens: Shattered Empire
Greg Rucka, Marco Checchetto, Phil Not
Your Price: $15.29
Want to know what event happened leading up to Star Wars: The Force Awakens? Marvel has also published a series exploring the Star Wars universe post-Return of the Jedi showing the chaos after the destruction of the second Death Star and the events that lead up to the new movie.  Journey To Star Wars The Force Awakens: Shattered Empire contains a series of explosive stories following Luke, Leia, and characters both old and new as well as giving us hints at what's to come. Written by fan favorite author Greg Rucka.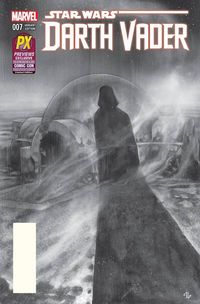 SDCC 2015 Exclusive Darth Vader #7 (Granov Black & White Variant Cover Edition) By: Kieron Gillen, Salvador Larroca, Adi Granov Your Price: $5
Looking for something a little harder to come by for that serious Star Wars fan? This Previews Exclusive variant cover presents the original cover image in striking black and white! A must-have for any collection!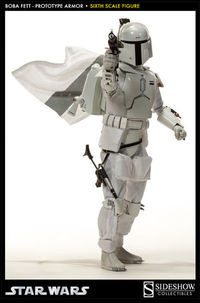 Star Wars Boba Fett (Prototype Armor) Scum and Villainy 1/6 Scale Figure
Sideshow Collectibles
Your Price: $179.99
Sideshow Collectibles make the perfect gift for your Star Wars super fan! These highly-detailed figures come with fully articulated bodies and plenty of accessories. If you are looking for something a little more obscure and collectible, this Boba Fett Prototype figure is it! Based on Joe Johnston's early artwork for Empire Strikes Back, this figure has everything a Fett fan could want: prototype designs of his iconic helmet and armor, prototype blasters, jet pack, grappling hook, and even a fabric cape!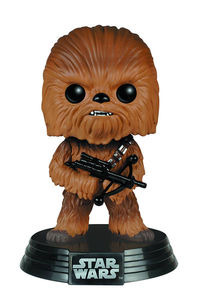 POP! Vinyls Star Wars Figures Funko Your Price: ranges from $8.24 to $10.79
We've saved the cutest for last! I'm referring to of course Funko POP! Vinyls. They are simply the cutest of all the Star Wars collectibles. Everyone's favorite rebels, scoundrels, and imperials are now bobbleheads sure to delight fans of all ages!
There a simply so many cool Star Wars items we can't fit them all on one blog. You can see our entire Star Wars catalog here. Below are a few others we think the super fan on your list will enjoy:
Don't forget to take a look at some of TFAW's other great Star Wars merchandise, too, including:
Not sure what to get? A
TFAW Gift Certificate
is a one-size-fits all treat, or feel free to contact us directly via Live Chat at
TFAW.com
. You can also call us at 800-862-0052 or
email us
, and we'll be glad to help you select the perfect gift for that special geek in your life. See more gift list ideas at the
TFAW Blog
.
Please follow and like us: