–UPDATE: YOU CAN VOTE FOR YOUR FAVORITE ONCE PER DAY NOW THROUGH 1/14/16!–
So many great comics hit the stands last year, and we're looking to you to choose the Best Comic of 2015! What follows is the final article in a series of five Best Comics of 2015 pieces we've produced since December. Missed the earlier installments? Check out Part 1, Part 2, and Part 3, and Part 4. Starting tomorrow, you'll have the opportunity to weigh in and help us crown the Best Comic of 2015!
Creator-owned series and indy publishers are great if you want to cast the shackles of shared universes and decades of canon. You'll find some of the most creative stories and unique artwork in the pages books like these.
The Best of Indy Comics (in no particular order):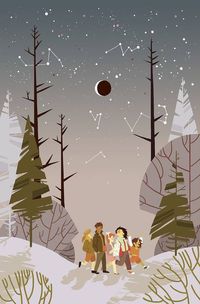 Lumberjanes
By: Shannon Watters, Noelle Stevenson, Carolyn Nowak, Brooke A. Allen
Here's what I told my sister-in-law about Lumberjanes: "It's like Buffy the Vampire Slayer meets The Baby-Sitters Club meets Camp Nowhere." Here's what I told my ten-year-old niece about Lumberjanes: "It's about a five girls who go to summer camp and become best friends. While they're there, they fight monsters, go on adventures, solve magical mysteries, and KICK BUTT."
Far from being a kids' book, the Eisner Award-winning Lumberjanes manages to be truly "all-ages," appealing to kids and adults alike. All you need is a sense of whimsy and a love of adventure. The book has an energy that picks you up and carries you through every issue, and the main characters — Jo, April, Ripley, Mal, and Molly — are written so well that they feel like your real-life best friends. The art is both cute and sophisticated, using brilliant colors and great linework to evoke moods and emotions. On top of all that, this series champions diversity in a subtle, natural way. It offers characters and storylines that are outside of the box, giving all sorts of young kids the chance to see themselves reflected in their comics and imagine a more vibrant, inclusive world. It's serious stuff, which is why it's extra impressive that each comic is so damn fun to read.
This series is exciting, funny, and sweet — though it's crawling with supernatural creatures, every issue proves that the real magic lies in friendship. With two collected trade paperbacks (and a third on the way), a hardcover deluxe edition, and 21 issues out so far, there's plenty of ways to join this series. [Steven M. at Milwaukie TFAW]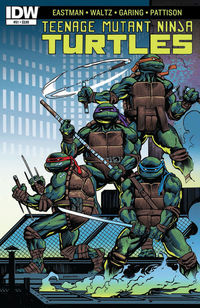 Teenage Mutant Ninja Turtles
By: Kevin Eastman, Tom Waltz, Cory Smith, Mateus Santolouco, Michael Dialys, Ken Garing
It's been four years and 52 issues since IDW started its TMNT journey with Tom Waltz and Turtles co-creator Kevin Eastman back in 2011. If you haven't been keeping up with the series, 2015 was a good time to join.
Waltz masterfully blends previous incarnations of the Turtles together culminating in deep, and intriguing storylines. So even if you started with the comics back in the 80's, or the cartoon of the '90s or '00s, you'll find something to keep you coming back each month.
This year also saw a massive event that took the Internet by storm. Donatello was left to defend the homestead in TMNT #44, and was attacked by Bebop & Rocksteady (yeah, those ones). Although Donnie tries his hardest, and even with the help of Metalhead, they get them best of him. Find the issue or pick up TMNT TPB Vol. 11 to see for yourself.
This series has been one of the most consistently good series on the stands. With all the variations of the Teenage Mutant Ninja Turtles mythos to pull from, it's always cool to see how our favorite ancillary characters are brought in to the mix. [Martin M. at Milwaukie TFAW]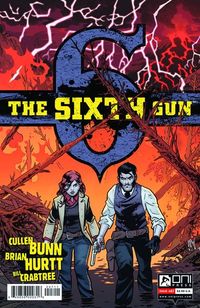 Sixth Gun
By: Cullen Bunn, Brian Hurtt, Bill Crabtree, A.C. Zamudio, Tyler Crook
We were spoiled this year. Not only did we get to see the beginning of the end of the the ongoing Sixth Gun series, but a host of great artists came together to contribute to the deeper Sixth Gun lore in the Days of the Dead, Dust to Dust, and Valley of Death miniseries.
Set in the wild west, The Sixth Gun is firmly rooted in western themes and settings, but it's so much more than that. With elements of adventure, supernatural, humor, and drama, this series transcends the genre it's built around. I cannot wait to see what Bunn and company have in store for the final three issues later this year. [Josh C. at TFAW.com]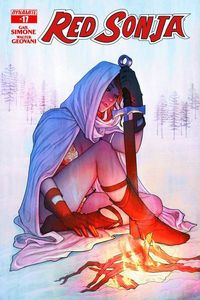 Red Sonja
By: Gail Simone, Sergio Fernandez Davila, Walter Geovani
Gail Simone is a modern legend. She has penned countless amazing comics for almost every major publisher and, most notably, had multiple essential runs at DC Comics (Birds of Prey, Secret Six, Wonder Woman, and more!). Red Sonja is a classic fantasy/sword and sorcery character that, while still popular, was in need of something (or someone) special to push her into the modern, mainstream spotlight. It turns out, this whole time she had been waiting for Gail Simone. When this book was announced, it was suddenly a no-brainer: of course Gail should be writing Red Sonja! Why hasn't this happened already?
And to no one's surprise it is fantastic! Simone manages to tell a story that feels familiar and new at the same time, deftly marrying classic elements with modern storytelling sensibilities. Meanwhile, Walter Geovani pencils some haunting pages that will linger in your mind. Throughout this epic, the She-Devil with a Sword is taken to unfamiliar, dangerous places that will leave scars both physical and emotional. Along with new depth to the hero, we are introduced to several characters that are welcome additions to the mythos.
If you are a fan of Gail Simone, Red Sonja, or simply great comics, look no further. This is the perfect jumping-on point for new readers, with plenty of twists and turns for veteran fans as well! [Jeff B. at Portland TFAW]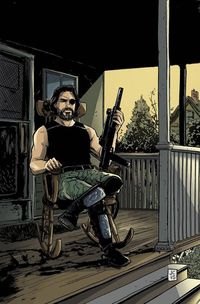 Escape From New York
By: Christopher Sebela, Diego Barreto, Maxim Simic
Christopher Sebela triumphantly brought Snake Plissken back from the dead in the ongoing Escape From New York comic book series this year. This is by far one of my favorite series published by BOOM! Studios in recent years.
The comic book series starts off 5 minutes before the ending on the first Escape movie, then with Snake on the run he goes to the only place safe from the USPF (United States Police Force) — Florida.
Sebela's writing artfully captures all those colorful characters we saw in the '81 movie without relying on tropes to tell a fun story that feels like an Escape story. Sebela does a great job creating the entirety of the state of the world that John Carpenter started to show us. This is one of my first reads every month, and I can't wait for more of Snake's adventures. [Martin M. at Milwaukie TFAW]
Honorable Mentions:
Stay tuned to the
TFAW Blog
to see how you can help us crown the Best Comic of 2015. Voting opens tomorrow!
–UPDATE: YOU CAN VOTE FOR YOUR FAVORITE ONCE PER DAY NOW THROUGH 1/14/16!–
Please follow and like us: