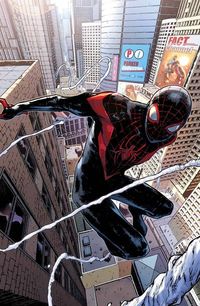 With the new Spider-Man series launching tomorrow, it's time to announce the winners of our Spider-Man Subscription Contest!
Ryan B. from Knoxville, TN
Ash H. from Irmo, SC
Joshua D. from Columbia, SC
Steve S. from Sausalito, CA
Adrian W. from Alexandria, VA
Congratulations to all the winners, and thanks to everyone who entered our contest!
About the New Spider-Man Series:
Miles Morales has been doing the super hero thing for a while, now he'll be a full-fledged member of the Marvel Universe. Swinging next to the Invincible Iron Man, the Mighty Thor and the All-New Captain America as a card-carrying member of the Avengers is an adventure!

ORDER SPIDER-MAN COMICS TODAY


VISIT OUR SPECIAL SPIDER-MAN PAGE TO SEE OTHER GREAT PRODUCTS
Please follow and like us: