From new series to longtime and recent favorites, this week had a strong crop of new comics. We picked a few of this week's new releases that we thought were standouts. This is the fifth of our seven-part series of New Comic Book Day blog articles. Be sure to comment or share our post on Facebook or Twitter if you like our articles!
SPOILER ALERT — We try to keep as many spoilers under our hats as possible, but a nugget may sneak through to our reviews.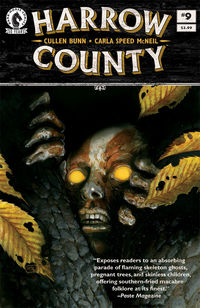 Harrow County #9
By: Cullen Bunn, Carla Speed McNeil, Tyler Crook
This issue of Harrow County sees Eisner-winning creator Carla Speed McNeil (Finder, No Mercy) join the team for an issue that takes a pause from our story thus far to focus on one of my favorite characters, the Skinless Boy.
You can see Bunn's pacing himself in this issue, letting the story slowly unfold to reveal yet another piece of the puzzle. Even if you haven't been following the series thus far, I recommend that you check out this issue–you won't be disappointed. As far as art, I think Carla Speed McNeil was an inspired choice for this issue.
While different from series artist Tyler Crook's art, McNeil's work is haunting in her own right. You can tell she's been a fan of the series from the get-go, because it's clear a lot of love went into each and every panel. [Josh C. at TFAW.com]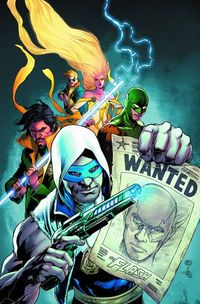 The Flash #48
By: Robert Venditti, Jesus Merino, Ivan Reis
Barry Allen is brought in to a task force assembled by the Central City Police Department to bring in the Flash! As if that weren't bad enough, the other members of the task force include the Rogues: Golden Glider, Mirror Master, Weather Wizard, Trickster, and of course, Captain Cold.
It's going to be a hard time escaping the team that includes the alter-ego of the Fastest Man Alive. Luckily he is in a position to sabotage the efforts of his would-be captors. He's going to need to think quickly on his feet, which wouldn't normally seem like much of an issue for the Flash, if only he could keep traction to stay one step (or thousands) ahead. They say that lightning doesn't strike twice, but the creative team has been electrifying with this arc of The Flash. [Casey D. at TFAW.com]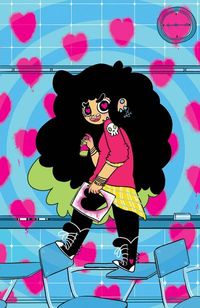 Jonesy #1
By: Sam Humphries, Caitlin Rose Boyle
Jonesy seems like a typical teenage girl: She's cute, lovable and we can all relate with her everyday struggles in high school. However, there is one little thing makes Jonesy unique from all the others . . . she's got a wacky super power and a pet ferret!
While dealing with the biggest event for high school, the dreaded Valentine's Day grams, Jonesy starts to show her super-secret superpower throughout the school day. People start to catch on but she doesn't care! She is taking charge and taking no nonsense from anybody in this issue but soon ends up finding her sole purpose is to teach her high school a lesson.
I love how relatable and funny this issue is and it makes you wonder, what is she going to do? What's her superpower? Well, Jumpin Jehosaphat! Better get to reading issue Jonesy #1! [Darcey M. at Universal TFAW]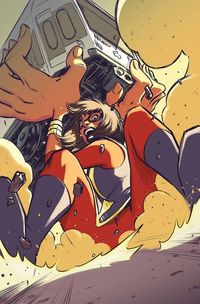 Ms Marvel #4
By: G. Willow Wilson, Nico Leon, Cliff Chiang
Life can be tough for a teenager: you have school work to get done on time, friends to keep up with, family to keep happy — and then there's always being an Avenger. That seems to cut into all of the other time. In this issue of Ms. Marvel, Kamala has to find a way to balance her home life, school life, and trying to earn confidence from Captain America and Iron Man. No problem at all, right? Especially with some help from her friend Bruno and something he's been working on in the science lab.
Yet again, G. Willow Wilson continues to put her amazing and unique spin on an original character, and Nico Leon's art adds incredible depth to the world of Ms. Marvel and everyone in it. You also read more of Ms. Marvel's adventures in All-New All-Different Avengers, on shelves now. [Steve M. at Milwaukie TFAW]
What did you think of these books? What should we review next week? Let us know below! Be sure to share these posts on Facebook or Twitter if you want us to continue this series of posts. 🙂
Please follow and like us: