Power Man and Iron fist team up for their new ongoing series, Lara Croft returns, and Catman takes on Batgirl! We picked a few of this week's new releases that we thought were standouts. This is the sixth of our seven-part series of New Comic Book Day blog articles. Be sure to comment or share our post on Facebook or Twitter if you like our articles!
SPOILER ALERT — We try to keep from posting too many spoilers, but one may sneak through to our reviews now and again.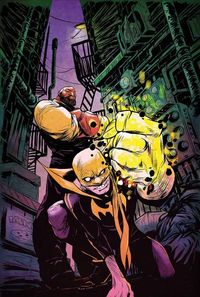 Power Man and Iron Fist #1
By: David Walker, Sanford Greene
Sweet Christmas, this issue of Power Man and Iron Fist sets it off! The tone carried through each character is Baby Bear, that is to say "just right." The art keeps it crisp like a new pair of kicks.
Danny Rand sees the opportunity to get the band back together, Luke Cage wants to keep the situation under control, and both just want to help out a friend. Of course, nothing ever goes quite that simple for our Heroes for Hire.
The wheels are in motion, and this initial arc is going to keep my attention. I can already see an investment in this story that I will be sticking around for the long haul. David Walker gets it! [Casey D. at TFAW.com]
Secret Six #11
By: Gail Simone, Dale Eaglesham, Tom Derenick
This issue of Secret Six represents my favorite part of Gail Simone's writing! She has the team take the proverbial chill pill and let their human-ness spill out in this issue.
After the Massive Magical Mayhem of the last issue, the team needs the break. However, their relaxation time is interwoven with life lessons, emotions, voices from the past, and a bit of action. With Alice, Strix, Porcelain, Ventriliquist, and Big Shot all dealing with several issues at once, you still see a real team dynamic here; almost family like. While we get a piece of every character, it is clear that the star of this issue is Strix. We are granted a nice/awful piece of her back story here.
However, there is another star in this issue. Where is Catman? Catman is off on his own enjoying a nice walk. Enter Batgirl! Gail does a brilliant job of bringing Batgirl and Catman into the scene. In the classic Bat/Cat format, they quickly engage in the most whimsical banter and butt kickery!
Artists Dale Eaglesham and Tom Derenick also do a great job of portraying the emotions that are pouring out of our characters' faces in this issue. Whether it is joy, pain or anger, it is believable! With comedy, emotions and action all in tow, we also traverse into a new story arc. Get ready, things are going to get . . . violent. [Sean W. at Milwaukie TFAW]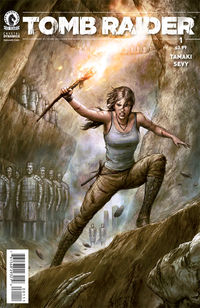 Tomb Raider #1
By: Mariko Tamaki, Phillip Sevy, Michael Atiyeh, Agustin Alessio
Tomb Raider starts off with Lara doing what she does best — finding treasure. At first we're unsure what it is she searching for, but we find out that it revolves around the "Mushroom of Immortality," and she's not the only one looking for it.
This first issue of Tomb Raider II does a great job setting up what we will be reading about in the months to come. Mariko Tamaki does a fantastic job with these characters — introducing a new villain, mentor, and also the tone of the book. By the end of the issue you know exactly what you are going to get out of this series: high risk and high adventure. Phillip Sevy's art is spot on. From action scenes to facial expressions, it's all very clean and polished.
This is a fantastic starting point for new readers. If you've only played the video games (Rise of the Tomb Raider is awesome, BTW) or just want some adventure in you pull list, you won't be disappointed with Tomb Raider II! [Martin M. at Milwaukie TFAW]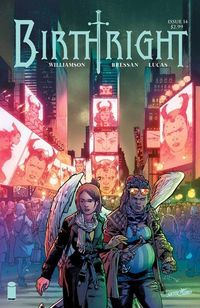 Birthright #14
By: Joshua Williamson, Andrei Bressan, Adriano Lucas
After 14 issues Birthright still one of Image Comics' best reads. Joshua Williamson's story is still landing in my pull every month due to the imaginative crossover of fantasy and "real world" mystery. I've personally never been a big fan of fantasy comics, but this book is too good to pass up.
As Mikey and Brennon try to find a place to hide, we encounter an "old timer" who wants to know the truth about Lore an desperately seeks Mikey. While the kid's parents are looking for them both, they encounter others who are also looking, and will do anything to get to them.
Andrei Bressan's inks and Adriano Lucas' colors are both fantastic–I love that the colors just pop — even in the night scenes. They're a really good pair, and it's a delight to crack open a new issue each month. This has been a great book from the start and I highly recommend it. [Martin M. at Milwaukie TFAW]
What did you think of these books? What should we review next week? Let us know below! Be sure to share these posts on Facebook or Twitter if you want us to continue this series of posts. 🙂
Please follow and like us: