So many terrific books came out this week! The action picks up in Superman: Lois & Clark, huge things happen in Black Magick and Chew, and Daredevil continues to thrill. We picked a few of this week's new releases that we thought were standouts. Check out our other New Comic Book Day blog articles so see our thoughts on other books. Be sure to comment or share our post on Facebook or Twitter if you like our articles!
SPOILER ALERT — We try to keep from posting spoilers, but one may sneak through to our reviews now and again. Read with caution, true believers.
Superman: Lois & Clark #5
By: Dan Jurgens, Lee Weeks
Superman: Lois And Clark is everything that is going right with the world right now! This has to be the best pre-Flashpoint Superman story line that's out. With the latest issue, we see Superman's daily struggles: being a good husband, being a better dad, and oh, well you know . . . defeating all his major foes in battle!
Superman never ceases to fight for what is right, even if that means taking down Blanque. The whole fighting sequence makes this issue worthwhile, but the cliffhanger has you anxiously waiting for more. With Jon and Lois by his side, this Superman can take on anything! I'm anxiously awaiting issue #6 now! [Darcey M. at Universal TFAW]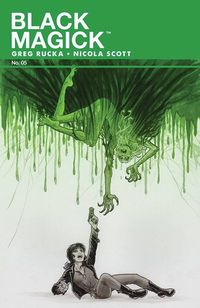 Black Magick #5
By: Greg Rucka, Nicola Scott, Chiara Arena, Jodi Wynne
Everyone knows by now that Greg Rucka is a brilliant writer. This issue continues to confirm that. However, the rest of the Black Magick creative team (Nicola Scott (art), Chiara Arena (colors) and Jodi Wynne (letters)) also needs to be commended. I found myself on the edge of my seat as I read through this issue. The main character, Rowan, goes on a journey from an everyday caring human being to a magical powerhouse — it is a wholly satisfying read on so many levels.
The series itself has been well-written but issue #5 really sets the tone for the book moving forward. We finally get a moment to see how close Rowan and her partner are. We get to see how caring she can be, but we also get to witness her strength; blended together with not only the proper words, but facial expressions and colors as well.
Investigations continue on both sides but this issue is full of reveals. STAY TUNED. It just got real! [Sean W. at Milwaukie TFAW]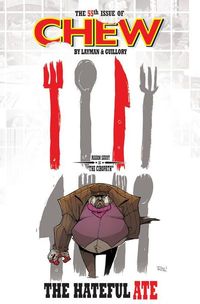 Chew #55
By: John Layman, Rob Guillory
Whoa, some big things happen here, and funny ones too, I mean it's Chew we're talking about. Now it's going to be hard to talk to about this with out spoilers, so, I'll do my best.
The issue opens up with Tony Chu finding another major character dead. After that, Savoy takes over the narration seemingly breaking the forth wall, or just talking to himself (which is kind of the same thing right?).
I can't talk anymore about this issue without spoiling it. So I'll say this, if you haven't been reading Chew, this is not the issue to pick up and start. That said, if you haven't been reading this one, you should. It's a great series with 10 trades in print (as of press time), and there has been talk of a television show. It's got great humor and a lot of heart. We've been fans from day 1, and it hasn't missed a beat since. [Martin M. at Milwaukie TFAW]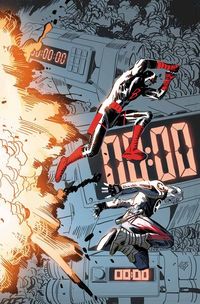 Daredevil #4
By: Charles Soule, Ron Garney, Goran Sudzuka
What will happen when Matt calls Steve Rogers? Will it be for help against the nefarious Tenfingers? Or is it just to clear his conscience and let him know who he is?
In this issue, we find out more about DD's mysterious "sidekick." Is he friend or foe? Does he have an alliance with the gang of Tenfingers, or is it a ruse to get closer and take it down for the the betterment of Chinatown — to make his small part of New York safer, like Matt tries to do every day for Hell's Kitchen. Will the Hand come and take care of Tenfingers before Daredevil and Blindspot can do it themselves? You'll have to get this exciting issue of Daredevil and continue this amazing run of one of the truest heroes out of New York.
Charles Soule makes yet another big mark in the Marvel universe, and Ron Garney and Goran Sudzuka's art brings one of the most unique styles we've ever seen to the world of Daredevil. [Steve M. at Milwaukie TFAW]
What did you think of these books? What should we review next week? Let us know below! Be sure to share these posts on Facebook or Twitter if you want us to continue this series of posts. 🙂
Please follow and like us: