Once again, this week was a really good one for comics fans. With so many great comics hitting the stands, it was hard to limit ourselves to just a few titles from this week's new releases. Check out our other New Comic Book Day blog articles so see our thoughts on other books. Be sure to comment or share our post on Facebook or Twitter if you like our articles!
SPOILER ALERT — We try to keep from posting spoilers, but one may sneak through to our reviews now and again. Read with caution, true believers.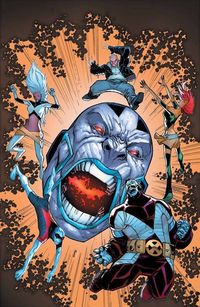 Extraordinary X-Men #8
By: Jeff Lemire, Humberto Ramos
This issue kicks off Marvel's X-Men Apocalypse Wars with a bang! How will Apocalypse make his presence known, and who will be his new horsemen, carrying out his bidding to free the world for his new era of mutant-kind? In this new issue of the amazing Extraordinary X-Men ongoing series, see what happens when Logan and Storm learn of a new spike in Cerebra's readings. Is Colossus's newly formed team of X-Men ready for what they're about to walk into? What will it mean for the future of mutants, and even the world itself? How will Magik help out her new protégé, Sapna, in controlling and understanding her new power?
There will be plenty of surprises and special guests to round out an exciting addition to this new story in the X-universe. Jeff Lemire brings his unique take to the long and storied history of the X-Men, turning a fresh eye to the classic story of Apocalypse, and he's accompanied by the amazing art of Humberto Ramos. Now it's just a matter of time to see if the X-Men are up to the task of fighting back the mutant power known as . . . Apocalypse! [Steve M. at Milwaukie TFAW]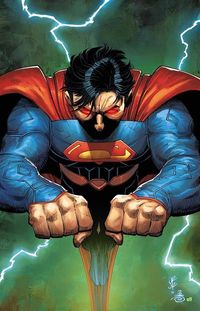 Superman #50
By: Gene Luen Yang, John Romita Jr.
The long awaited issue of Superman #50 has finally come out! We meet Superman as he is head to head with Vandal Savage, a long-time villain he's tackled before. Savage takes him to an alternate reality as he grows stronger from a comet heading towards Earth. Showing Superman what could be if Vandal came into power. Superman is plopped down to an alternate universe where his parents are still alive and he's still with them as a boy! His parents keep thanking the "High Chief" that the planet is still together.
Can anyone take a guess on who this high chief is? As Superman fights his way to Vandal, he reminds himself that being strong is not always the most important thing — it's the commitment to his choices that are his true power. Will Superman ever get out of this alternate Universe? Find out in Superman #50! [Darcey M. at Universal TFAW]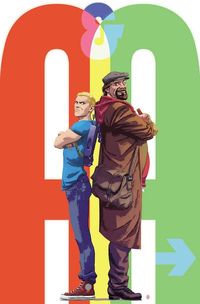 Archer & Armstong #1
By: Rafer Roberts, David LaFuente
For the uninitiated, this will serve as an entry point to the zany, fun world of Archer and Armstrong. For those back on the ride, you will definitely want to keep your arms inside the vehicle for the duration of this. Either way you slice it, this comedic adventure title is going to be a great time for you!
Archer was raised by the heads of a religious cult in their theme park, and honed as a deadly weapon to assassinate the immortal Armstrong (brother of the "Eternal Warrior" Gilad, and Ivar "The Timewalker") but on his mission, he discovered that Armstrong was not the great evil that he was led to believe.
They teamed up, became pals, and the rest is history. As for how 'the Adventures of Archer & Armstrong' or 'A+A' goes, Armstrong has a magical satchel which is essentially a portal to another dimension, where goblins catalog and keep the items he puts in it so that he can retrieve what he needs at a moment's notice. We finally get a glimpse of what it is like inside, as Armstrong goes in to the bag to retrieve a lost item deep within. Archer goes in after him, and we are off on another zany adventure with a big bad trapped in the bag, and forgotten about for thousands of years. [Casey D. at TFAW.com]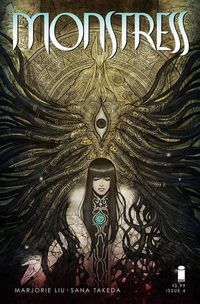 Monstress #4
By: Marjorie Liu, Sana Takeda
VISUALLY BREATHTAKING…is the first thing that must be said about this comic. In fact, you'd be hard-pressed to find someone that didn't share that opinion. Go ahead, try.
This story continues to display the Marjorie Liu's extraordinary ability to transport you into another world. Maika, Ren and Kippa are still on the run from the Cumaea AND the Federation but they seem to have caught a second to breath. In addition to catching up with the trio, we are blessed with more back story; questions that are extremely important and that have been on our minds since the beginning are answered in Monstress #4!
Marjorie Liu has created a world that terrifies me but also makes me envious. Sana Takeda's artwork is a dreamscape of wonderful imagery that perfectly complements the story. [Sean W. at Milwaukie TFAW]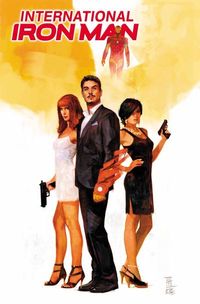 International Iron Man #1
By: Brian Michael Bendis, Alex Maleev
(SPOILER ALERT) As we learned in The Secret Origin of Tony Stark, Tony's parents are not his own. This sets up the events that make International Iron Man such a great book.
Much of this issue is spent on backstory that will serve the rest of this arc, but we do get to see a flashback of a younger Tony Stark back in his school days, working on the timeless art of seduction.
Bendis' writing is always top notch — nothing new there. He has such a great grasp of the character and it almost seems like Robert Downey Jr. and the Marvel movie screenwriters are paying close attention to Bendis' every move.
Alex Maleev's art is always fantastic. True to form, Maleev delivers captivating, fully fleshed-out art that just begs the reader to slow down and drink it all in. Bendis and Maleev are like Cap & Bucky, Wolverine & Collossus, Iron Man & War Machine — a perfect pairing such that every time they are working together, you're in for one of the best times that comics have to offer.
It's a great jumping-on point for new readers as well as a great companion to Bendis/Marquez's Iron Man run as well. [Martin M. at Milwaukie TFAW]
What did you think of these books? What should we review next week? Let us know below!
Please follow and like us: