Welcome to another installment of TFAW's New Comic Book Day comic book reviews where we choose a few titles from amongst this week's new releases and give you a quick review of what you can expect. Check out our other blog articles so see our thoughts on other books. Be sure to comment or share our post on Facebook or Twitter if you like our articles!
SPOILER ALERT — We try to keep from posting spoilers, but one may sneak through to our reviews now and again. Read with caution, true believers.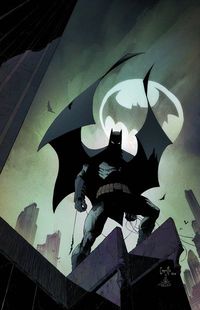 Batman #50
By: Scott Snyder, Greg Capullo
Well this is it, citizens of Gotham, the penultimate chapter from the creative team that relaunched the Batman title for the New 52. Bruce Wayne has had a strenuous journey, as usual, but has remembered his true identity: Gotham's caped crusader. Jim Gordon kept the cowl warm during the arc "Superheavy" in the bat-shaped hole left after the events of the Joker's "Endgame," yet now Bruce has returned in a new, while familiar batsuit.
Scott Snyder and Greg Capullo really gave this one their all, to weave a tale that simultaneously outlines the reasons Batman has been such a lasting figure through the decades, and what drives the character, while reforming Batman in an entirely rejuvenated body. They are metaphorically able to rejuvenate the reader on a title that has already remained one of the strongest, most consistent titles since DC's New 52 initiative that began rebuilding the whole DCU.
There are a great deal of Batman stories that stand the test of time — of which I have been along for the ride on many of them — and though the creative team may move on to do other things after next the issue, they have left a lasting impression on the mythology of one of the greatest characters in fictional history. Before you head to your local movie theater this weekend to see Batman v Superman, be sure to check out TFAW's great Batman and Superman products! [Casey D. at TFAW.com]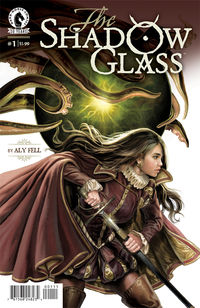 The Shadow Glass #1
By: Aly Fell
In the first issue of the new Elizabethan-era series, Shadow Glass, series writer/artist Aly Fell aptly sets the scene for this six-issue story. We're introduced to the story's principal characters, including our protagonist, Rosalind (Rose).
Rose is empathetic, confident, and curious. She also displays anachronistic behavior that defies social norms of the era. This helps us identify with her as a person who's true to herself, and respect her for that reason. I can't wait to see where Fell takes us next.
As for the art, I was very impressed with the polish that Fell brings to the table. She has a good grasp on form, perspective, panel size and placement, and framing within those panels. I really like the muted color palate she's working with. I found myself exploring the lines and textures of building interiors, and simple things in the background like foliage, ships, and towers.
This series will be good for fans of Princeless, Locke & Key, BPRD, or Hawkeye's Kate Bishop. [Josh C. at TFAW.com]
Doctor Who 4th Doctor #1
By: Gordon Rennie, Emma Beeby, Brian Williamson, Alice X Zhang
Much like an episode of the TV show, Doctor Who 4th Doctor we catch up with The Doctor and Sarah Jane traveling the cosmos for entertainment. Of all places, they land in Victorian London. We're introduced to the villain and plot is quickly established. Cyclops creatures kidnap Sarah Jane, and it's up to The Doctor to save her.
Gordon Rennie and Emma Beeby do a good job of making the story feel like an episode of the TV show but playing to the strengths of the comic book medium. Brain Williamson's depiction of both Tom Baker and Elisabeth Sladen is spot on.
If you're a fan of the Tom Baker years, Doctor Who 4th Doctor will be a great trip for you. On the other hand, if you are looking for a new adventure with an unfamiliar Doctor, this will be a fun ride to take. Still can't get over these awesome covers that Alice X. Zhang has been creating for the Doctor Who series — truly breathtaking. [Martin M. at Milwaukie TFAW]
Carnage #6
By: Gerry Conway, Mike Perkins, Mike Del Mundo
Gerry Conway and Mike Perkins perfectly create a very horrific scary movie feel to this series. In Carnage #6 we are given new scenery to kick off this new story arc.
A 16-year-old girl named Jubulile, who is making a journey across the world. Well . . . until she bumps into an unexpected crash site. Her new passenger recovered from the scene frightens her, and makes her a little uneasy. Who could this be? Well Cletus Kasady, of course!
He now has the Darkhold, a dead Elder God's book of magical spells, which makes him that much stronger and crazier. This can only mean massive trouble for our Jubulile. Cletus gets angry, and turns into Carnage. She is now stuck on a boat in the middle of the ocean with Carnage. What does she do? Read Carnage #6 to find out! [Darcey M. at Universal TFAW]
What did you think of these books? What should we review next week? Let us know below!
Please follow and like us: