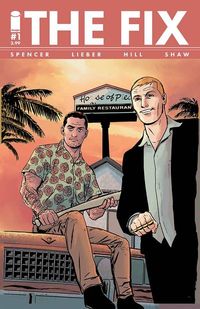 Crime, Cops, Corruption. A theme that's stood the test of time, but it never gets old. The Fix is a new series from the Superior Foes of Spider-Man team of Nick Spencer and Steve Lieber. We got an early preview of the first issue, and just had to share our thoughts with you — in short, don't miss out on this one!
Let's start off by saying that the book is hilarious. While I was reading the first issue, there were also instances where I was cringing, not because it was absurdly gross with blood or anything; it was because it was honest. The conversations, the people, the background on the main characters — it all felt real. It's as if Nick Spencer was inspired by stories he overheard in a dive bar. The issue is in breaks which are a nice crime/heist feel.
Steve Lieber's art is perfect for this kind of story. He does well with crime, going back years to Whiteout and Underground. It's this nice mix of fun poppy colors along with hard dense lines. They do a great job giving the book a realistic feeling, something most crime genre comics leave to dark tones and lots of shadows. I'm looking forward to seeing where these two go, and how they get to their fantasy riches.

Without giving too much away, there is always this theme of morality within Crime comics, especially when the main character is perpetrating these transgressions. Here it's no different, Roy, our head of crime, is also a detective. He wants the glory, fame, and riches of the world, and is willing work for it, just not hard. Roy grew up idolizing the bad guys, then a cop, now he wants to be both. It's a problem when you start committing crimes to cover debts.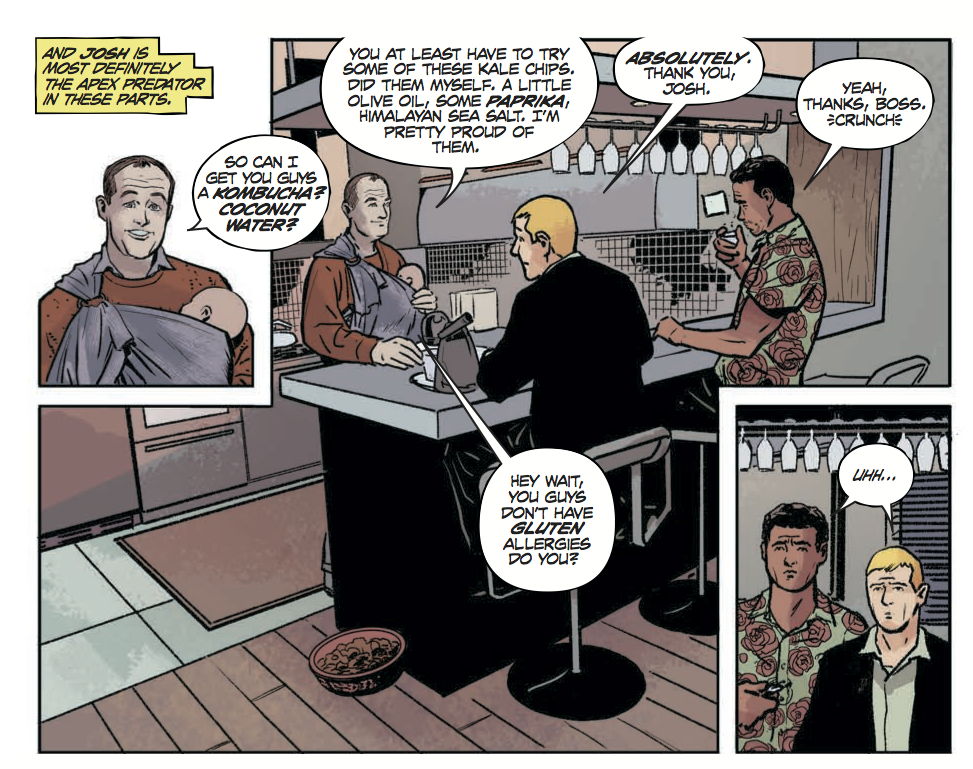 Roy and his partner owe money to Josh — a new age guy who's got a garden, sells pesticide-free vegetables at local farmers markets, doesn't believe in vaccination, and has a wife who does Laughter Yoga. But when it comes down to it. He'll cut out your eyes with a smile. Not a guy to owe money or anything to.
That's where we find our protagonists friends. In the middle of owing money to a "New-Age Mob Boss," being crooked cops, and it looks like problems with Internal Affairs to top it off. This will be one for the ages and your pull list. It's another great title coming out of Image Comics library. If the rest of the series is anything like the first issue, it'll be on my top reads pile for some time to come.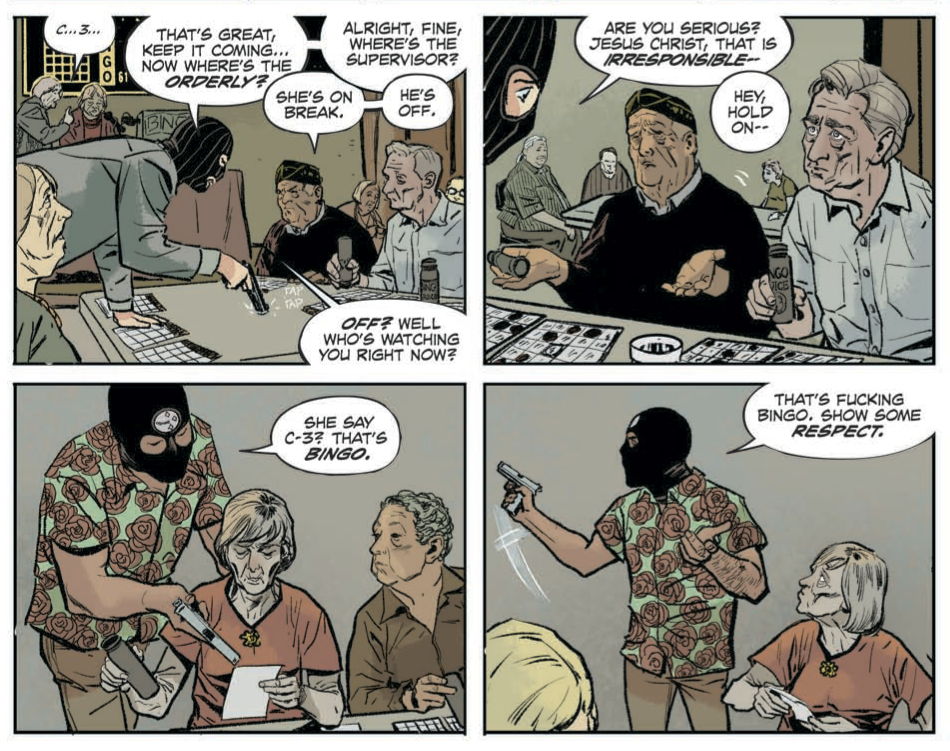 If you've read books like the Parker series series by Darwyn Cooke, Nick and Steve's previous collaboration on Superior Foes of Spider-Man, or other great crime books like Whiteout, Stumptown, or Underground, this is right up your alley. It's also good if you need something a little dark, with a whole lot of laughs. Because really, what's funnier than seeing a "bad guy" fail?
The first three issues of The Fix are now available to order. Do yourself a favor and get your pre-orders in today for this great new series. The first issue hits next week on April 6th, so there's still time to get in on our everyday 20% pre-order discount!
Please follow and like us: