We're pretty excited about the crop of New Comic Book Day picks from this week's new releases. Check out our other blog articles so see our thoughts on other books. Be sure to comment or share our post on Facebook or Twitter if you like our articles!
SPOILER ALERT — We try to keep from posting spoilers, but one may sneak through to our reviews now and again. Read with caution, true believers.
Gwenpool #1
By: Christopher Hastings,Gurihiru, Danillo Beyruth
From our universe to theirs. Gwenpool is all about this superhero/mercenary game. We don't know how she got here but all we know is she's from our world. Yeah, ours. She's read the comics watched the movies, played the games. Somehow she ended up in the 616. She's been having small gigs with Howard the Duck but now we get an ongoing with her. It's funny, crazy, and full of nonsense that, if you knew you was in a comic you would probably do as well.
Gurihiru does a great job on the main story art with cute anime inspired character designs. It works very well for the Gwenpool character. While Danilo Beyruth gives us a more standard western comic art. All in all, if you like Deadpool, or are looking for a fourth-wall breaking character to lighten up your day, Gwenpool will do a great job filling that need! [Martin M. at TFAW.com]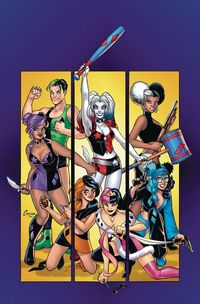 Harley Quinn and Her Gang of Harleys #1 (of 6)
By: Frank Tieri, Jimmy Palmiotti, Mauricet, Amanda Conner
If you are a major Harley Quinn fan, Harley Quinn and Her Gang of Harleys is the comic book miniseries for you! Harley needs some help so she calls together a band of friends to fight crime. Most of these characters are familiar to you if you read the on going Harley series. If you are not familiar with it, that's okay! This number one breaks down who each new Harley is and what their special ability is.
I am interested to see where this series will go and I love Harley Quinn taking the lead. You can tell throughout the whole comic that she really just wants to help these new girls get up to speed like her but keep their individuality. Their abilities are put to the test when Harley gets kidnapped. There are a lot of chuckles and character development in the first issue and I love the direction DC is taking with her — this comic just is icing on the cake! I recommend picking up this issue #1 before they are sold out! [Darcey M. at Universal TFAW]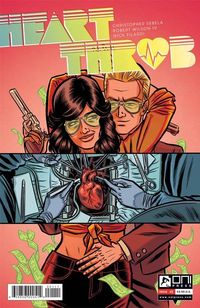 Heartthrob #1
By: Christopher Sebela, Robert Wilson IV
Writer Christopher Sebela and artist Robert Wilson IV have an interesting idea on their hands with this first issue of Heartthrob. A young woman, Callie, gets a heart transplant and with that transplant, Callie starts to not only "see" her heart donor in her minds eye, but starts to have romantic feelings towards her donor's "ghost" (for lack of a better term). And what could be stranger than that but to have that "ghost" have feelings for Callie too? This is a welcome turn for Callie who is consistently having her advances towards her living lover/co-worker spurned. Meanwhile, Callie finds out that the company she's been working for is a little less than honest.
This becomes too much for Callie who gets jilted by her lover/co-worker who is getting a big promotion at her company and so she quits. Top it all off with a twist that Callie's donor was a thief in his lifetime who, in his after-life, wants to help Callie take down her old employer, and you have the makings for a pretty intriguing first issue. [Ethan S. at Beaverton TFAW]
What did you think of these books? What should we review next week? Let us know below!
Please follow and like us: