This week we take a look at 2 Sci-Fi, a Mystery and 2 Superhero books for New Comic Book Day. These are just a few stand out new releases this week. Be sure to comment or share our post on Facebook or Twitter if you like our articles!
SPOILER ALERT — We try to keep from posting spoilers, but one may sneak through to our reviews now and again. Read with caution, true believers.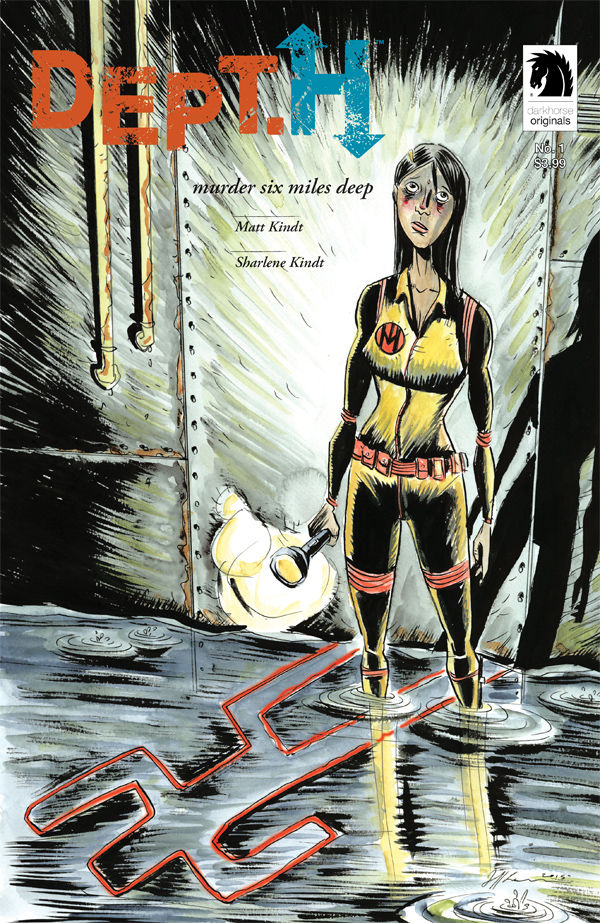 Dept H#1
By: Matt Kindt, Sharlene Kindt, Jeff Lemire
Who doesn't love a good mystery? However, this is not your typical whodunnit!
Journey with Mia as she takes on what I can only imagine may be the hardest thing she has ever had to do; discover who murdered her father!
Death, love, an enclosed environment and a ton of suspects have me hooked in to this series for sure! The beautifully drawn and colored book really has a way of letting you grasp what it would be like to be on this ocean adventure.
Furthermore, there are small details in the art and writing that capture each scene; down to an obvious accent that really adds to a character. Matt and Sharlene Kindt have created something special here!
Dept H #1 [Sean M. at Milwaukie TFAW]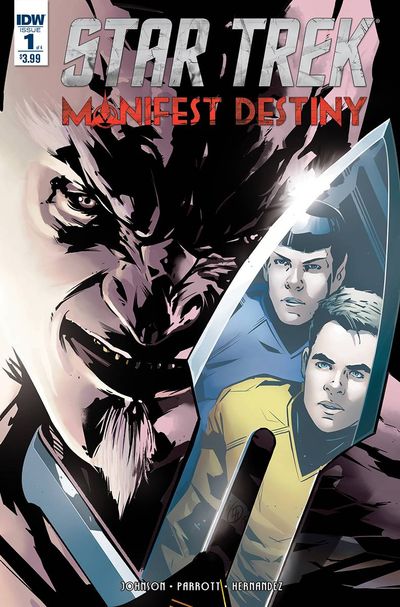 Star Trek: Manifest Destiny#1
By: Mike Johnson, Ryan Parrott, Angel Hernandez
Star Trek Manifest Destiny #1 fits right in with the "JJ 'verse" (for non-Trekkies that's what the new timeline that JJ Abrams has created with his two films). From the accurate-yet-comic-feel of the art to the perfect style of dialogue, this book just FEELS like JJ Trek. You can't help but hear the actors voices as you read through each panel. As for the story itself, Trek fans were clamoring for more Klingons from this new timeline and this series looks to deliver — starting with a Klingon invasion and the setup of a new Klingon villain. This book is a great way to start celebrating Star Trek's 50th Anniversary this year AND get ready for Star Trek Beyond this summer. Qapla'!
Star Trek: Manifest Destiny #1 [Dustin K. at Universal Citywalk TFAW]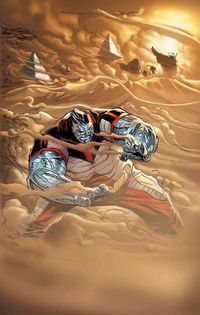 By: Jeff Lemire, Ken Lashley, Humberto Ramos
We left off on the last issue off Extraordinary X-men with the newly formed X-men team being confronted by the new horsemen of Apocalypse, fronted by a broke down Colossus. In the midst of this, the younger team of X-men are sent to the future, were the new lord Apocalypse has bent the world to his will.
In this new issue of Extraordinary X-men, you get to see what happens with the young team when they're sent to this new, dystopian future to face the horrors that lay before them at the hand of its new ruler. Will Piotr be able to help them get safely back to their time and save the earth from this new future? Will they all make it back in one piece–or even the same? How will the Storm-led team deal with one of their loved ones being used as a hand of doom? "Mutantkind ends here: so says the lord Apocalypse." Or does it? Find out in Extraordinary X-men #9.
Jeff Lemire (All New Hawkeye & Descender) showcases his unique ability of bringing real human emotion to the fantastic in this book; he is accompanied by Humberto Ramos' (Amazing Spider-man) striking artwork.
Extraordinary X-Men #9 [Steve M. at Milwaukie TFAW]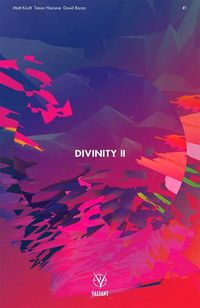 Divinity II #1
By: Matt Kindt, Trevor Hairsine, Tom Muller
Historically I've not read many Valiant titles. I've picked up a few books here and there. Nothing really drew me into the universe that Valiant Comics has to offer — Until I read Divinity II. And that's kinda the funny part; this is the second part of the Divinity story. So really, I should be blind as a bat and have no clue as to what is transpiring in this comic. But because Valiant has done a fantastic job of telling new readers about what came before (nestled within the second page prior to the story that takes place in this first issue) I had no problem at all following the characters Matt Kindt writes about in Divinity II, issue #1.
Within 24 pages I immediately cared about all of the characters. I was completely engaged with the back story about the main character, Myshka. From becoming one of Russia's first cosmonauts, to traveling to the farthest reaches of the known (Valiant) universe, we learn about Myshka's childhood and upbringing. Learn about what she's had to endure from the other test subjects in Russia's space program and we begin to understand what makes up the fiber of Myshka's being and why Myshka is able to possibly become…something more. The art by Trevor Hairsine is lovely, dark and at times haunting (inker Ryan Winn & colorist David Baron have a lot to offer with the amazing atmosphere of this book also).
As Myshka is pushed to the edges of human capability, it's clear that Trevor and Matt, et. al, care very much about what happens to Myshka and how their story is interpreted by you, the reader.
If you've ever wanted to dive into a Valiant Comic but didn't know where to begin, I think this would be a great place for you to start with Divinity II #1. I'm definitely in this one for the long haul.
Divinity II #1 [Ethan S. at Beaverton TFAW]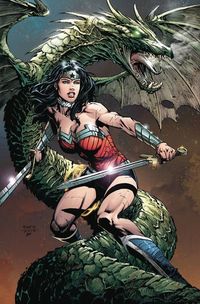 Wonder Woman #51
By: Meredith Finch, Miguel Mendonca, David Finch
Building off the events of the last issue we find Wonder Woman going deep into Themyscira to help Zeke. We see her deepest fears as it tries to tear her apart, down to her core.
Meredeth Finch does a fine job planting you inside Diana's head. With most of this issue speaking through captions. It works great due to how weird it would be talking to yourself out loud for that long.
Miguel Mendonca, Dexter Vines, Diana Egea, Stephen Downer and Ulises Arreola all do a great job with the art in this issue. Giving Themyscira creepy orange and red tones, along with heavy dark lines pull off how scary this place could be to visit.
If you are currently reading Wonder Woman this is a fine issue in the story arc. If you haven't been, you might want to go back a couple of issues just so you're not lost.
Wonder Woman #51 [Martin M. at TFAW.com]
What did you think of these books? What should we review next week? Let us know below!
Please follow and like us: