New week, new comics. For this New Comic Book Day we get Punished twice, go into the future with Valiant, a cat gives us a little present, and the Flash goes head strong into issue #51. As always these are only a select set of new releases that stood out from the crowd. Check out our other blog articles so see our thoughts on other books. Be sure to comment or share our post on Facebook or Twitter if you like our articles!
SPOILER ALERT — We try to keep from posting spoilers, but one may sneak through to our reviews now and again. Read with caution, true believers.

Punisher #1
By: Becky Cloonan, Steve Dillon, Declan Shalvey
It's finally here the book that you've been waiting for! In the midst of all the crazy alien invasions and huge battles going on with the Avengers, there's still street gangs and drug runners slipping through the cracks. Pushing weapons onto the streets and a new drug that makes anyone an unstoppable killing machine. The police can only do so much without crossing over the line. Who will inflict the justice that is sorely in need? Frank Castle "The Punisher"! He is judge, jury and executioner against all injustice in the streets of New York and will not stop until justice is served. In this breakout issue Frank runs into a ghost from his past that will change the course of things to come.
Becky Cloonan (Demo and Southern Cross) picks up were Iconic writers Garth Ennis and Jason Aaron left off with Steve Dillon (Preacher, Hellblazer, Punisher Max). This is a perfect Punisher books with a fresh take from an incredible team. [Steve at Milwaukie TFAW]
4001 A.D. #1
By: Matt Kindt, Clayton Crain
New Japan is a group of sectors that hovers in Earth's orbit, an actual satellite nation, in the future. The A.I. construct who controls the functions and populace of this seeming utopia is called Father, whose champion is known as Rai, who has been jettisoned back down to the Earth. This series jumps right in without requiring any previous investment in the Valiant universe. The artwork is glorious, as you'd expect from Clayton Crain and David Mack, while the tapestry is designed by the phenomenal mind of Matt Kindt.
Valiant are inclined to keep you wanting more, as their events are typically only 4 issues long, as this is. If you thirst for more, you can read the additional tie-ins (bringing the entire saga to only 12 issues, with checklist printed on the back of the issue) to fill your craving for this futuristic amazement! If that doesn't wet your appetite, check out Rai , X-O Manowar , and Eternal Warrior , all of whom you will glimpse in 4001 A.D. This series already subtly examines the consequences that are linked to heroic actions, and further develops an interesting and new view of the fallout, from when a hero has already made a noble sacrifice. This one is a trip worth taking! [Casey D. at TFAW.com]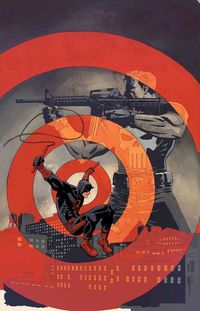 Daredevil/Punisher #1
By: Charles Soule, Szymon Kudranski, Reilly Brown
Netflix's Daredevil series introduced the MCU, and the world to Frank Castle aka The Punisher. It's only fitting that we get another taste of that Daredevil vs Punisher story. Taking from Charles Soule's current series, Daredevil has help from his partner, Blindspot. Let's be honest here, he's going to need it.
As Matt Murdock gets ready for a prisoner transport of a Russian Mobster, Frank does his best to punish. Now Daredevil and Punisher have a score to settle. Pitting them against each other, and the Russian Mob. But how does Blindspot react when he's introduced to the "hero" that is The Punisher? [Martin M. at TFAW.com]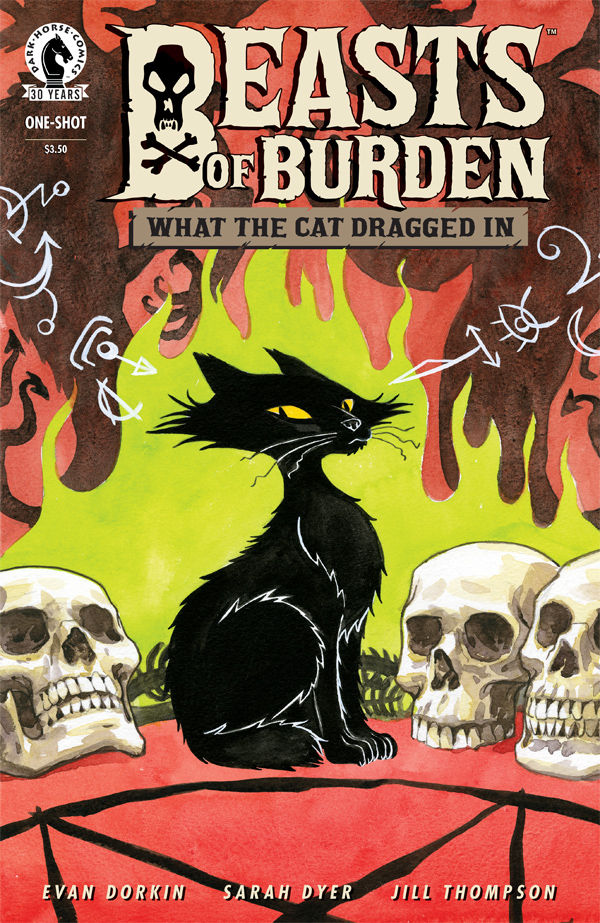 Beasts of Burden: What the Cat Dragged In
By: Evan Dorkin, Sarah Dyer, Jill Thompson
In this One-Shot issue the newest member to the Beasts of Burden comes under scrutiny for their past. Dymphna a familiar, has kept secrets from her group. They intend to find out what she's been keeping from them. It's safe to say, it's more than they asked for!
Beast of Burden has been and still is a fantastic series. Evan Dorkin and Sarah Dyer are fantastic in this series. The fun and creepiness is there, with relatable characters, even though they're all animals.
Jill Thompson paints her heart out on every page. It' beautiful to look at. She does this great job with cat reactions in this issue. I can see my cats doing the exact same movement and jumps as we find out friends going on their adventure.
If you like supernatural tales or want a series that only involves animals. Than this "Homeward Bound" meets Constantine is the series for you! [Martin M. at TFAW.com]
What did you think of these books? What should we review next week? Let us know below!
Please follow and like us: