Several great books hit the shelves this week — Hanna-Barbera collides with the world of Mad Max for Wacky Racers, Lumberjanes meets Gotham Academy, Action Comics is back to its old numbering and a new story, and Prometheus returns. These are a few of this week's new releases. Check out our other blog articles so see our thoughts on other books. Be sure to comment or share our post on Facebook or Twitter if you like our articles!
SPOILER ALERT — We try to keep from posting spoilers, but one may sneak through to our reviews now and again. Read with caution, true believers.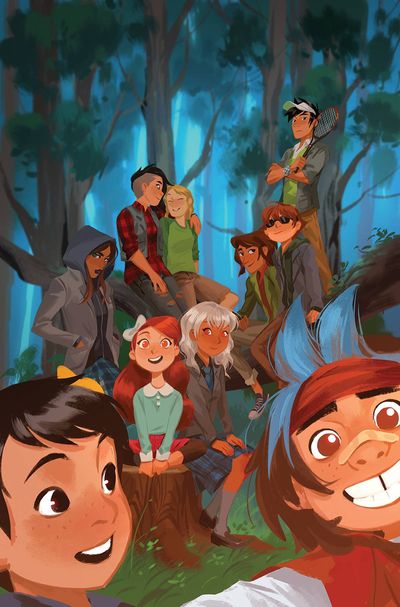 Lumberjanes Gotham Academy #1
By: Chynna Clugston Flores, Rosemary Valero-O'Connell, Mingjue Helen Chen
Lumberjanes Gotham Academy brings together the two best trouble-making-teenage-teams in comics from Boom! Studios and DC comics. What's better, it's filled with puns, bright colors, and friendship.
The first part of the issue gives us snapshots of each groups personality. Gotham Academy's "Detective Club," are investigating a missing teacher. Which leads them into the mysterious woods. Meanwhile, the Lumberjanes' scout leader needs to find her own missing person: fellow Lumberjane Rosie. The Lumberjanes strong-arm their leader (in a scene involving a literal severed arm!) into giving them the call to gear up and find their friend.
The teams are hardly hostile to each other, though we start to see how this miniseries can explore their differences. The super sleuthing GA crew is already having trouble adapting to the bombastic friendship and maximum energy of the Lumberjanes. They'll need to overcome these differences if they're going to stop the evil forces at work and save everyone! [Tim S. at TFAW.com]