Each week we take a look at a small selection of New Comic Book Day books. From this week's new releases we're looking at: Spider-Gwen, Captain America Steve Rogers, a new Dark Horse series Cryptocracy, and the start of Valiant's final arc of X-O Manowar. Be sure to comment or share our post on Facebook or Twitter if you like our articles!
SPOILER ALERT — We try to keep from posting spoilers, but one may sneak through to our reviews now and again. Read with caution, true believers.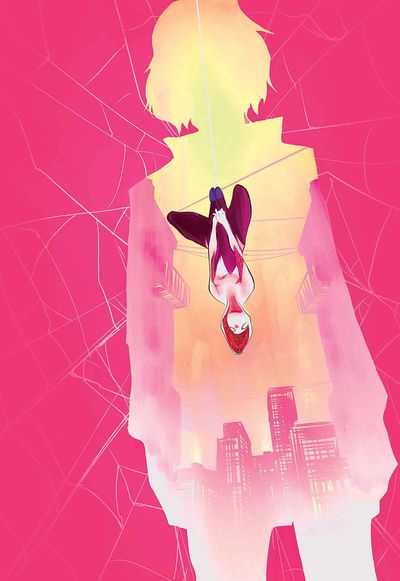 Spider-Gwen Annual #1
By: Jason Latour, Chris Brunner, Chris Visions, Robbi Rodriguez
Our first Spider-Gwen Annual is in the bag. We get five stories in this double-sized book, and I gotta say, it was a ton of fun! I know, the Parker story is tragic, but seeing it from this other Earth's (I believe it's Earth-65) side is really cool. I like seeing how events were different.
The first story is the wrestling story retold, wherein the 616, Parker tries to win money, and Uncle Ben dies. This time, Spider-Gwen is trying to win it all. Wrestling against She-Hulk.
Captain America makes an appearance, but this is definitely a different Cap than we've had before with a very different backstory. Similar to some events, but overall a cool, different take, with lots of nods to the 616 characters.
I don't want to spoil the fun of these other stories. I will, however, say that I want to see some of these heroes and villains more regularly.
If you haven't been reading Spider-Gwen and you love the quirks of Deadpool and Spider-Man. This series is really a must read. [Martin M. at TFAW.com]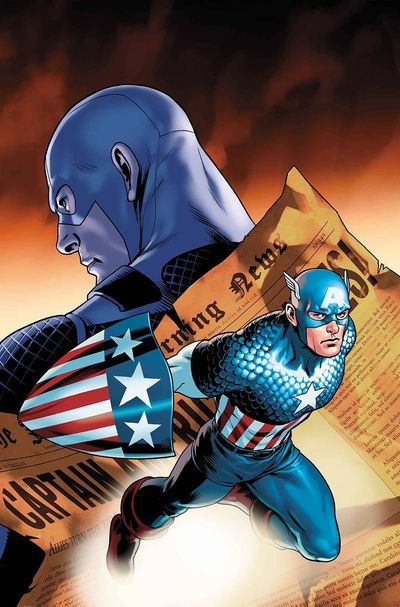 Captain America: Steve Rogers #2
By: Nick Spencer, Jesus Saiz
THE TRUTH IS REVEALED!
After last month's mind blowing ending, we get plenty of answers in this issue. Nick Spencer lays it out all out for us with the utmost detail and makes it all worthwhile. It is not simple but it is not complex either. What it is, is ENTERTAINING. Spencer's writing continues to be humorous where needed and moves us right along. His arc here is sure to be an epic story.
I am fighting the urge to spoil anything here because there are so many cool aspects to cover within these 32 pages. In addition, I am quickly becoming a fan of the art by Jesus Saiz. His layouts and facial expressions really have a way of connecting the reader to the emotions laid forth by Spencer's words. Great Job fellas! [Sean W. at Milwaukie TFAW]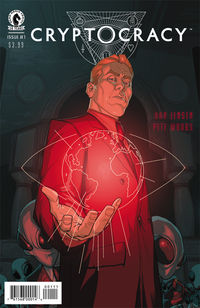 Cryptocracy #1
By: Van Jensen, Pete Woods
Welcome to Cryptocracy (noun [Plural Cryptocracies] 1. A form of government where the real leaders are hidden or merely unknown).
Forget the Illuminati, Freemasons, and The Knights Templar This is what is actually running the world: nine families and a few thousand followers/agents (not all human by the way).
In this introduction, we find that a botched job in Chicago calls attention to something much bigger. Someone or some group is looking to take it all over. Van Jensen created a great first issue for us. Along with Pete Woods' art, I'm excited to see where Cryptocracy takes us, and how they are involved in some of the world's most mysterious events. Definitely recommended for conspiracy enthusiasts and readers who enjoy Greg Rucka's Lazarus. [Martin M. at TFAW.com]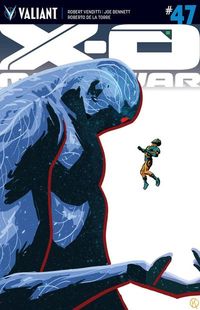 X-O Manowar #47
By: Robert Venditti, Joe Bennett, Kano
Long ago in the year 2012, we saw the relaunch of the Valiant universe with the release of the first issue of X-O Manowar. It filled me with hope that my favorite independent comic book characters of the '90s were back.
I was blown away at the respect and heightened level of intensity in which the new Valiant were delivering. X-O Manowar, the flagship character, and the comic book was truly something amazing; and with new life infused, it was sure to go in a bold new direction. Here we are, at what could be the final arc of the story, and I can't help but feel that there is still a much bigger picture in play. This issue does not make a new reader feel too lost, although it would probably not be the best place to start.
The events that have led us here are all culminating in a solid example of what makes the character X-O Manowar so enduring. This issue, along with all the rest leading up to the finale at #50, comes polybagged with a microprint of X-O inside—some of which will be the actual original artwork, others regular prints! This is a really cool sendoff, and I hope that it isn't the end completely. I absolutely recommend this series as a whole. [Casey D. at TFAW.com]
What did you think of these books? What should we review next week? Let us know below!
Please follow and like us: