You don't have to look very far to find someone who wants to secede from their country, to set up a tiny nation-state of their own where they can make the rules that they think make the most sense. In certain parts of the Pacific Northwest there are even regions where groups have banded together to create their own countries. Like the fictional Briggs Land, the latest creation from master storyteller Brian Wood.
We caught up with Brian and asked him some pointed questions about Briggs Land and what he was thinking as he created this exciting new series, a story that's already been picked up by AMC TV to make into a series!
But first, a preview of Briggs Land #1:
Grace Briggs is a family matriarch whose husband Jim rules Briggs Land, a hundred square miles of wilderness that's set up as another country entirely. Drive up to the gate and signs state "You are now leaving the United States". Problem is, the head of the Briggs family, Jim Briggs, is locked up in a Federal prison with a lifetime sentence for attempted murder. He still does his best to run the family and land, but Grace is fed up and wants to take control from her husband. So she shows up to his prison and tells him the news: she's taking over. And there ain't nothing he can do about it.
It's not going smoothly, however, from the FBI agents following Grace around to the Briggs boys being unsure whom to support during this family coup. Everyone else in Briggs Land also has to decide if their loyalty is with Jim or the upstart, Grace, who has really been running the land for years anyway. The results are the last thing that propper secessionists ever want: danger from within, as is clear when there's an incident late at night, a threat to life and limb.
This is clearly a story in the same vein as the popular TV shows Sons of Anarchy and Justified, and indeed, AMC is working with writer Brian Wood on a TV series based on the Briggs Land story. It's  an engrossing tale, enhanced by the flowing sketch art of Mack Chater and Lee Loughridge.
If you want a head start on the upcoming TV series so you'll be the expert in your circle of friends, Briggs Land #1 is a must buy beginning of a powerful and intriguing series.
---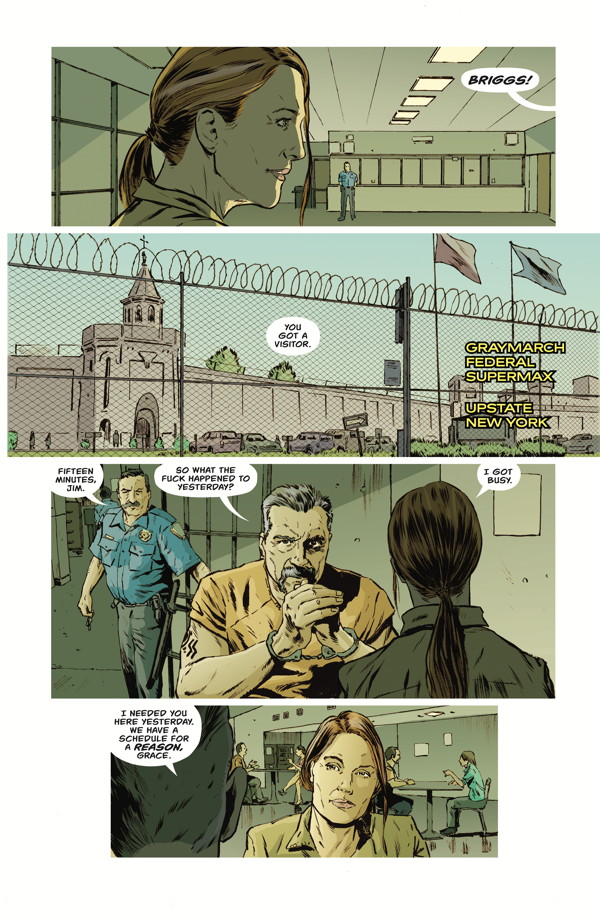 TFAW: What's the inspiration for the Briggs Land series? It's an intriguing storyline, for sure, and quite timely!
Brian Wood: Timely, absolutely, but its been timely for awhile, going back, for me to the 90's, with Ruby Ridge and Oklahoma City, which were my first exposures to the idea of domestic terrorism and this sort of off-the-grid secessionist culture. I should add that by terrorism I refer to Timothy McVeigh, not the Weavers.
So that combined with the fact that in doing research for DMZ and later for Rebels, I came across a lot of material about US militia groups, hate groups, Patriots and Sovereigns, and it stuck in my head as something that would make a great series someday.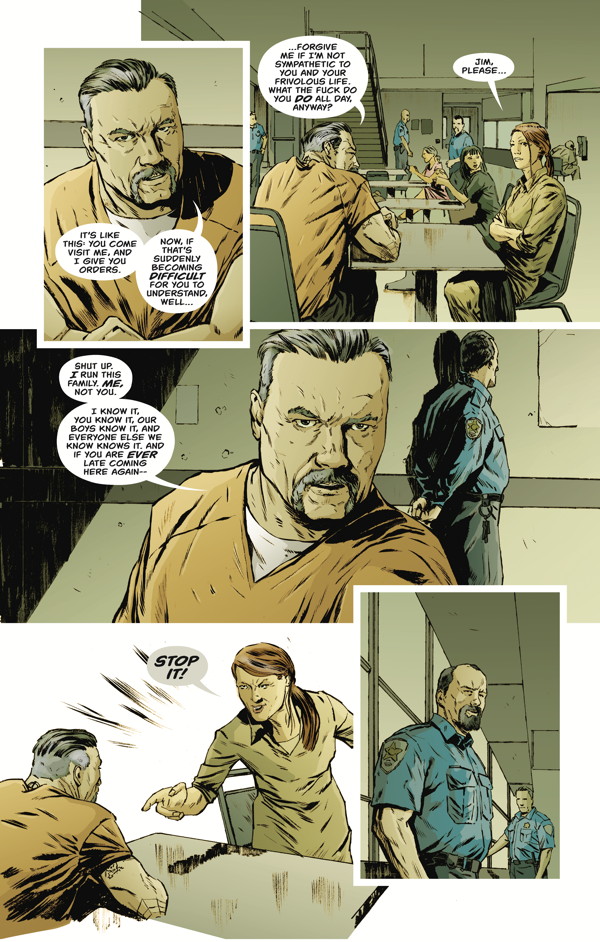 TFAW: You chose a female protagonist as the main character, wresting control of the Briggs family business and property from her husband? Love the dynamic, but what made you choose her rather than, say, one of their children to try a coup?
Wood: An early version of this has the husband, the patriarch of the family, in control. A very Tony Soprano type of guy. Which certainly worked, but was also very typical – it read like a traditional sort of mafia story. And because of that the people I showed it to, including AMC, didn't love it like I think they should. So after sitting with it awhile I decided to rewrite the pitch with the wife in charge, and the difference was night and day. It immediately brought forth all sorts of interesting conflicts, both in the Briggs family itself as well as the culture surrounding it, that just didn't exist before. It made it ten times as rich and compelling, and that's when people started to respond to it.
Personally, it also gives me a chance to write a nuanced, complex mother character, something I have not yet done but want to.
TFAW: What state do you have in mind as the setting? Idaho? Montana? And how does that affect the story in terms of FBI surveillance, etc.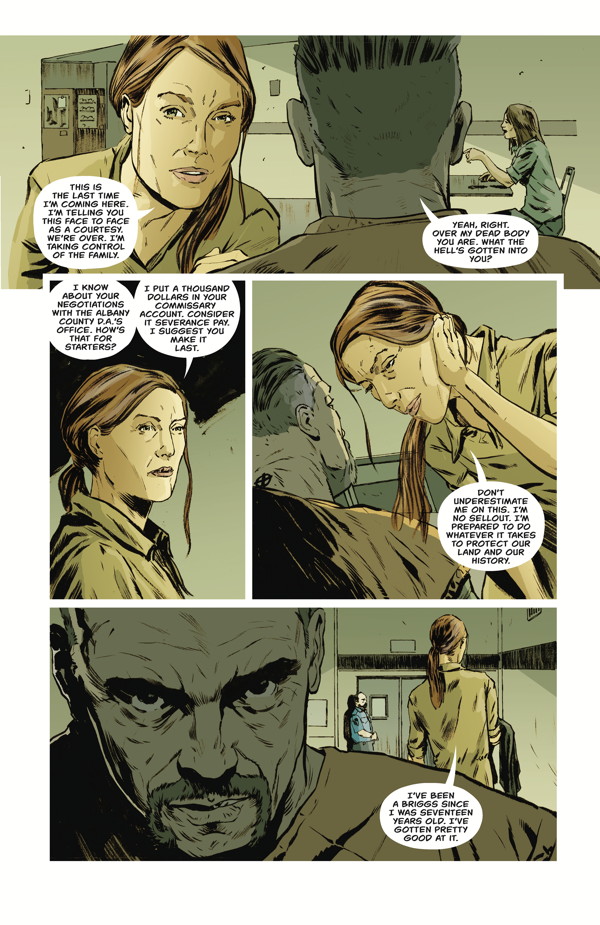 Wood: It's New York State, which may not initially seem like a place with a surplus of empty, rural land, but it has a tremendous amount of it. The fact its New York isn't a primary element in the story, but it does enable us to bring in a more diverse cast simply because it's an area far less homogeneous that say rural Idaho or Montana, which is pretty white. There's also rust belt-esque elements upstate, such as decaying towns, abandoned mills and railways, and other things like that that let us cast this secessionist culture in not just a visually-interesting world, but an economically depressed setting that would support a large culture of disaffected types like the Briggs community.
TFAW: Really love the art styles of Mack Chater and Lee Loughridge. How did you all come together for this new series?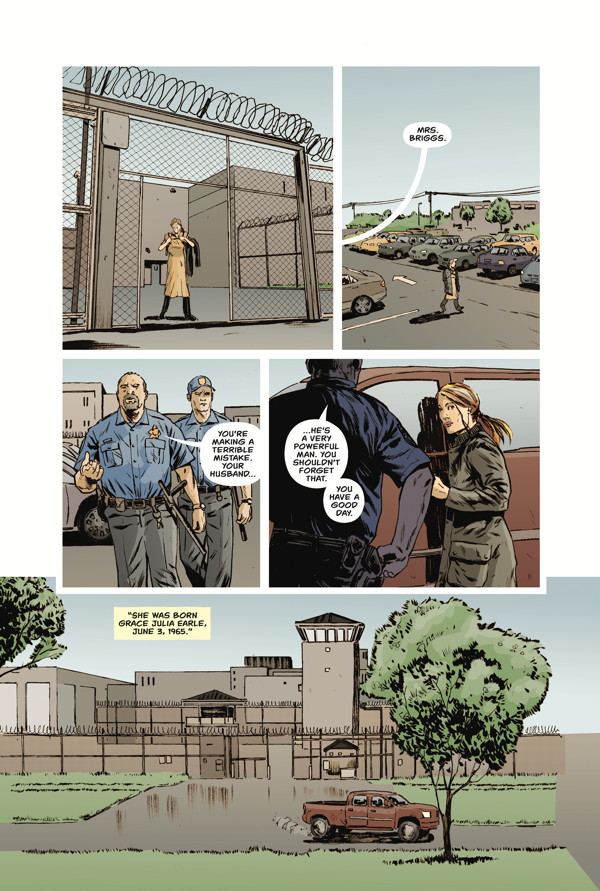 Wood: I think I asked Tula Lotay for some suggestions, and Mack was one of them. I admit I had not heard of him before, as he's new to comics (but has had a rich career in character and game design). But I found some samples that had this gritty, realistic style that seemed perfect for a crime comic, and lo and behold they were pages for a George Pelecanos comic! It was intimidating to ask him to work with me after working with someone like Pelecanos, but Mack was kind and said yes. And Lee… he's a legend as far as I'm concerned, seeming to have worked on an endless list of amazing comics. It's a great team. Plus Tula Lotay on covers!
TFAW: You've said that the AMC TV series (congrats on that!) and the comic book published by Dark Horse will add to each other. Can you give us any hints on what we can expect?
Wood: What I mean by that is the fact that I'm writing both the comic and the pilot at the same time, more or less, and that unique (I can't think of another example of someone doing this) perspective allows me to step back and look at the comic from the POV of needing to adapt it, and to step away from the pilot script and look at the comic with fresh eyes, and use each of these Briggs Lands to support each other.
Maybe a better way to explain that is to say that since comics is a very finite space — only so many words in so many panels for so many pages — the show allows me to expand on characters and the world and in doing so, create an overall richer world. And the fact that the comic has no television producers laying rules down means we can get away with things in the comic we can't put in the show.
So at the end, for me, Briggs Land is both formats complementing each other to create an overall story that is greater than the sum of its parts. Each can stand alone, for sure, but together it's richer.
TFAW: In an ideal world, how many issues do you have planned for this series?
Wood: Fifty? Maybe more? I've said that Briggs Land feels like DMZ in terms of it being this world that can support an endless number of stories. So it would be nice to have a nice long run like that.
TFAW: You've worked with Dark Horse Comics on several other titles like The Massive, Rebels, EVE Valkyrie, and Aliens: Defiance. How has it been working with the folks over there from a creative perspective?
Wood: I love Dark Horse (obviously). After Vertigo changed and it was no longer a publisher where I could do the sorts of books I wanted to do, I wanted to find a home that was stable and had a great support system to help these projects succeed. I can see the appeal of a publisher like Image, but I'm in this business to be a writer, not a self-publisher, or a publicist, or a sales rep, or any of that type of thing that takes away from the actual writing. There's a team at Dark Horse that has my back, and I like that.
TFAW: Who do you think is going to fall in love with this new series?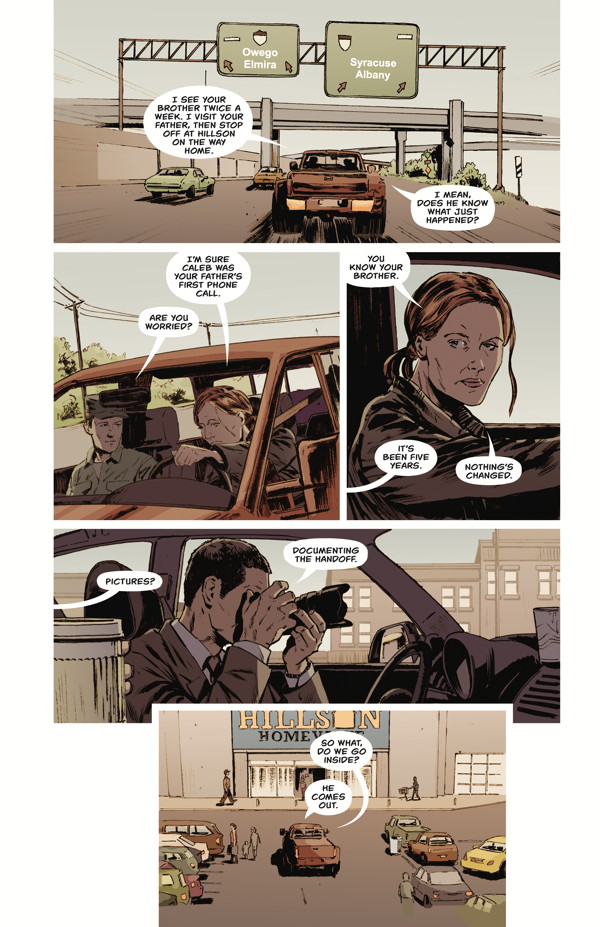 Wood: This is such a classic "Brian Wood" book that my regulars will absolutely find a lot to love. Like you said at the top, this is timely and relevant to mainstream current events and it doesn't seem like that will change any time soon. This is also a crime drama, something that's a little new for me, so there's potential for fans of that genre to get into this. Plus the TV show element, which assuming all goes as planned, will open up a huge audience that may not be regular comics people.
TFAW: What other books are you working on right now?
Wood: There's Starve and Black Road at Image. Aliens: Defiance and at least one other project for Dark Horse.
TFAW: What comic books are you enjoying right now?
Brian: I don't read as many comics as I like, since my leisure reading time is consumed with research reading for my books, but when I do I tend to read titles written or drawn by friends of mine, rather than following certain characters or companies. So, Jason Aaron is someone I'll always read, as is Greg Rucka and Warren Ellis.
Great, thanks for the time and your thoughtful answers, Brian! We wish you the best of success with the new Briggs Land, and we're definitely eager to see where you go with the series.
Please follow and like us: