For New Comic Book Day this week – we look at an Old Man, a New Super Man, a Giant Gorilla, and celebrate Star Trek's 50 years. As always these are only a few of this week's new releases that stood out from the crowd. Be sure to comment or share our post on Facebook or Twitter if you like our articles!
SPOILER ALERT — We try to keep from posting spoilers, but one may sneak through to our reviews now and again. Read with caution, true believers.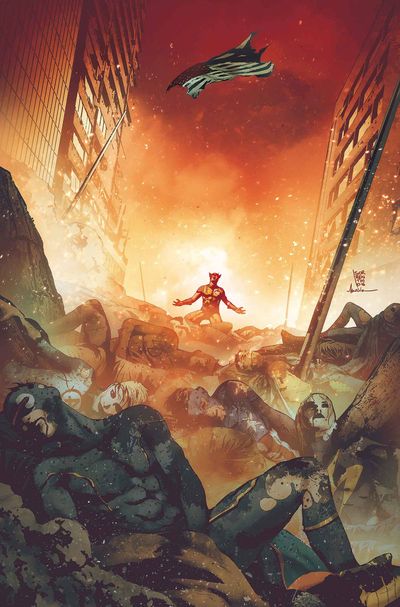 Old Man Logan #8
By: Jeff Lemire, Andrea Sorrentino
In the last issue of Old Man Logan, we saw Logan defending the people of Killhorn Falls from a crazed group of killers called the Reavers lead by Lady Deathstrike. He will stop at nothing to keep this group from killing the woman who became his wife from his lost timeline. With his back against the wall, Logan succeeds in pushing the threat away from the population and leaves to keep them safe.
In this much-anticipated issue, we find Logan not too far in the future from the events of the last story arc, living once again with his team and family, the X-Men, with one exception – Jean Grey is alive and wants nothing more than to help out her lifelong friend. We also get to see, through Logan's memories, the events that lead to the night the heroes fell. We now know what happened at the Xavier School for the Gifted – when the villains used Logan as their killing machine to take down the X-Men (see Old Man Logan by Millar and McNiven) – but we never got to see the fall of New York, or what led to the descent of Hank Pym. By the end of this issue, all will be revealed. And in the conclusion of this amazing book, we get to see a perfect reunion that will hit home with any Wolverine fan – or any comic fan in general.
I can't say enough to about how much I've loved this book. Jeff Lemire has taken the mantle of this story and used the new and old universes to make this a truly fantastic book, with the beautiful art of Andrea Sorrentino making the characters and action jump right off the page. I cannot wait for what happens next issue of Old Man Logan! [Steve M. at Milwaukie TFAW]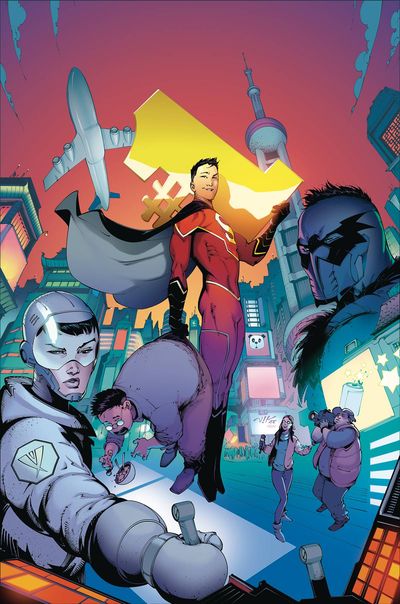 New Super Man #1
By: Gene Luen Yang, Viktor Bogdanovic
Shanghai, China. Kong Kenan is a bully that justifies his behavior by picking on Lixin, whose father runs an airline. The very same airline who he holds responsible for the death of his mother. Kenan's father is a mechanic that is part of a "Writers' Group" which are conspiracy theorists attempting to prove the existence of the Ministry of Self-Reliance.
These pieces converge when the villain Blue Condor swoops in to abduct Lixin. Kenan instinctively throws a can of soda (which he stole from Lixin) at Blue Condor. This is caught on video and gains the attention of the Ministry of Self-Reliance. Who approaches him to grant him the powers of Superman.
All that power given to one without the moral compass of our Kryptonian is going to steer us on an interesting course, indeed. Gene Luen Yang's story and Viktor Bogdanovic's art are both flashy enough to catch our attention, and keep us watching, as this story evolves. It's going to be an interesting series seeing this New Super Man go from bully to hero. [Casey D. at TFAW.com]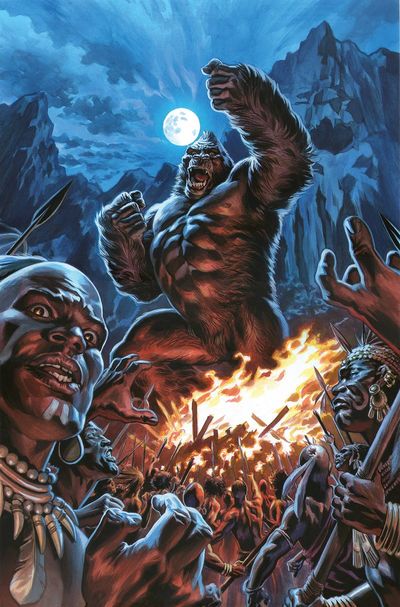 Kong of Skull Island #1
By: James Asmus, Carlos Magno, Felipe Massafera
First things first, the art of this comic book is gorgeous! I was memorized by Carlos Magno's clear and very detailed illustrations. This issue opens up to a time before Kongs became extinct. The people believed the gods protected us through the Kongs.
As the natives travel to expand the islands they rule, they take their protectors with them. When the natives discover Skull Island, they get more than they bargained for. This island has bad written all over it and as the people try to steer clear of it, the ship is attacked by monsters! As the ship starts to sink, one Kong struggles to get back on the sinking ship. As the people are drowning… the only thought you can conjure up is "Save the Kong!!!". Kong of Skull Island is going to be one heck of a ride! [Darcey M. at Universal Citywalk TFAW]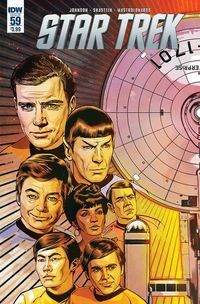 Star Trek #59
By: Mike Johnson, Tony Shasteen
As we near the 50th anniversary of Star Trek we see the crew of the Starship Enterprise enter a place in space that seems to be a bridge to alternate realities. The crew, for a time, switches minds with their movie and original series counterparts. This comes with some comedic surprises for them.
Switching back and forth between old and new crew members was cool. Mike Johnson did a good job slightly altering how each Kirk or Spock said the same line, highlighting the differences between the two universes. Since he came aboard, Tony Shasteen has done a fantastic job drawing the series. Each character is easily recognizable, even for casual viewers of the series.
It will be fun to see how both crews deal with such an anomaly in Star Trek #60![Martin M. at TFAW.com]
What did you think of these books? What should we review next week? Let us know below!
Please follow and like us: