With Suicide Squad hitting the theaters this weekend, New Comic Book Day Is give you a double dose of crazy with Suicide Squad Rebirth #1, AND Harley Quinn #1! Plus Doctor Strange concludes The Last Days of Magic arc, and we talk about an amazing crime series from The Wire writer Tom King – The Sheriff of Babylon. As always these were only a few of this week's new releases that stood out from the crowd. Check out our other blog articles to see our thoughts on other books. Be sure to comment or share our post on Facebook or Twitter if you like our articles!
SPOILER ALERT — We try to keep from posting spoilers, but one may sneak through to our reviews now and again. Read with caution, true believers.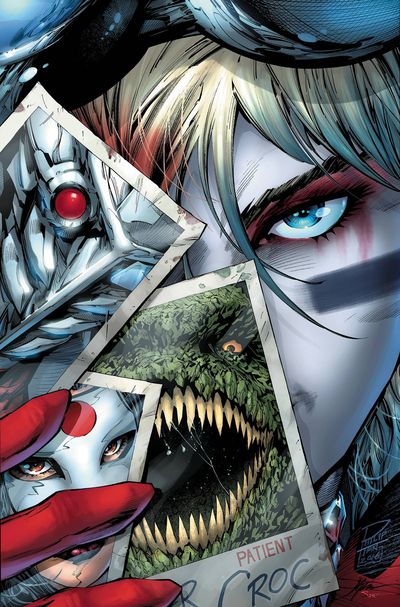 Suicide Squad Rebirth #1
By: Rob Williams, Philip Tan
There is a high profile Suicide Squad movie coming out at the end of this week, and with DC's Rebirth taking place across their publishing line, now is a hotter time than ever to reintroduce the concept of Task Force X (the Suicide Squad's official title) and a few of those characters!
We are given the purpose of the team – and a structure is formed for brand new readers hoping to jump on board. We get right into it, with Philip Tan's dynamic artwork that screams action from the start.
Whether you are headed to or from the movie and looking to check out the comic book incarnation, you won't feel lost at all starting out fresh, right here in this very issue of Suicide Squad Rebirth [Casey D. at TFAW.com]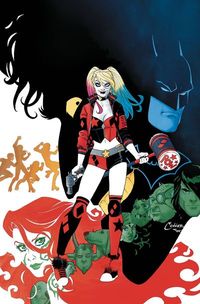 Harley Quinn #1
By: Amanda Conner, Chad Hardin
Wowzah! This issue is one for the books! Wacky Harley is back at it again with chaos, a good laugh and…zombies? That's right folks, you heard me, Zombies!
Jimmy Palmiotti and Amanda Connor are the creative team making this beautiful series and they use every wild card they have! This issue is all what you need to know about Harley Quinn: Her origin, Her triumphs, and that she's freakin' crazy! With small references from the ongoing Harley Quinn comic, new readers shouldn't be too confused.
Now Back to the zombies, yes…zombies. Harley Quinn and Red Tool run into an unexpected encounter with the undead. Instead of asking questions, they jump straight into action. As blades and hammers are flying and smashing, Red Tool is bitten by one of the undead. Harley, whose not going to lose her friend, chops off his arm to save his life. Then she catapults him in the air! What? Why do you ask? Guess you'll have to read Harley Quinn #1 to find out! [Darcey M. at Universal City Walk]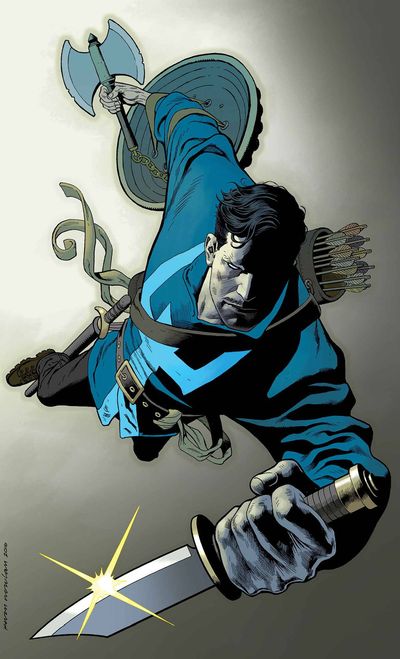 Doctor Strange #10
By: Jason Aaron, Chris Bachalo, Kevin Nowlan
It's the finale of 6-issue event Last Days of Magic. Stephen is at his end, with no magic left to help him against Imperator – who seeks to destroy all magic and leave science to rule.
This finale felt like a great conclusion to the fight that Doctor Strange had been engulfed in. With help from fellow Marvel mystics and mages Scarlet Witch, Magik, and others. Jason Arron was able to create a creative, action-packed, arc surrounding the idea of Science vs Magic. The art is hard-edged and painterly, just as I would imagine Doctor Strange's personality.
If you've been reading The Last Days of Magic arc as I said, this is a great final issue. If you're just jumping on board, maybe wait until the next issue of Doctor Strange as things may be a little confusing for first-time readers. [Martin M. at TFAW.com]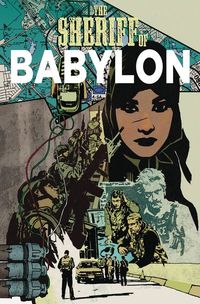 The Sheriff of Babylon #9
By: Tom King, Mitch Gerads, John Paul Leon
Things start to collide as the third act starts in the 12 issue story The Sheriff of Babylon. I've been on board this series from the start. A crime comic smack dab in the middle of the 2004 Iraq war.
Written by Tom King (Batman, Vision, and the hit tv series The Wire) this well paced episodic story feels like watching a 12 part tv series. Mitch Gerads (Punisher) has been leading the way in this visually stunning noir.
I really can't say enough good about this series. Everything feels real, as the twists come you don't feel like they are out of left field – as if Tom King has already written out everyone's lives and motives from the get go. The Sheriff of Babylon is only 3 issues away from finishing – and I'm not sure if I'm excited to read it, or sad that it'll be over. [Martin M. at TFAW.com]
What did you think of these books? What should we review next week? Let us know below!
Please follow and like us: