This week for New Comic Book Day, Batman and Two-Face take a road trip, we learn about a cult that crashed the stock market, Harrow County's Emmy finds out she has more family than she knew of, and Dead No More starts to unravel. As always these were only a few of this week's new releases that stood out from the crowd. Check out our other blog articles to see our thoughts on other books. Be sure to comment or share our post on Facebook or Twitter if you like our articles!
SPOILER ALERT — We try to keep from posting spoilers, but one may sneak through to our reviews now and again. Read with caution, true believers.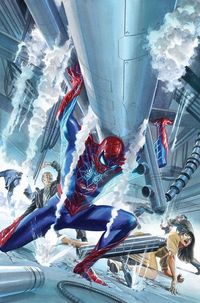 Amazing Spider-Man #16
By: Dan Slott, Giuseppe Camuncoli, Alex Ross
As Dead No More gears up, Amazing Spider-Man #16 lays the groundwork for what could be a pivotal moment in the Parker story. Jameson Sr. lays in a hospital bed with a genetic unknown disease. A scientist from NEW U tells the Parker and Jameson family that there is a new procedure that could work. Jay Jr. is hesitant but Peter wants to try. As Peter goes over NEW U's research, an explosion pulls Spider-Man to a Parker Industries Plant. Spider-Man saves the day, or so it seems.
Dan Slott has been doing an excellent job in his Amazing Spider-Man run – along with Giuseppe Camuncoli, Cam Smith, and Marte Gracia this issue has a John Romita Sr. style that is very welcoming. As the first issue to captivate us for Dead No More, Amazing Spider-man #16 is a great start!
[Darcey M. at Universal City Walk TFAW]
All-Star Batman #1
By: Scott Snyder, John Romita Jr
In this tale, which I like to consider "Gotham by Midnight (Run)," Batman is taking Two-Face on a road trip in an effort to permanently remove the fractured personality of Harvey Dent. Two-Face, on the acid-scarred hand, has other plans. Which he sets into motion offering to release all the blackmail material gained on everyone in Gotham over the years. Some surprises reveal that this dirt the Deacon of Duality has runs deep and no one is safe.
The coloring by Dean White in this issue really adds texture and depth to the art, and Snyder's pacing is as methodical as always. The backup story in this issue is even more compelling to me though. Having Duke (from the excellent We Are Robin) stepping into his new role training with Batman for what appears to be more of an ally than a sidekick role this time around. They set the boundary that he is not going to be Robin, but something else entirely. While also laying out the various training styles and how they resonated differently with each of Batman's former sidekicks with color coding. Very interesting stuff that enriches the iconic Batman mythology even further.
All-Star Batman looks to be an exciting new series from Scott Snyder, John Romita Jr, and Dead White. [Casey D. at TFAW.com]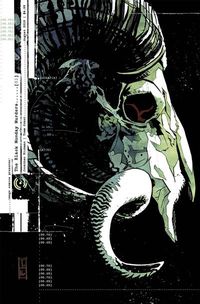 Black Monday Murders #1
By: Jonathan Hickman, Tomm Coker
What if I told you that you could be rich but, you'll pay in blood. Money, Power, and Magic – it's all one in the same in The Black Monday Murders.
Johnathan Hickman's newest series tells a tale of altered history, where Black Tuesday (the stock market crash of 1929), was set in play because of a debt. We as a whole owed someone or something and it was time to pay. We get jumped into the present as we see a detective getting a new case that's one of his…
As a first issue, this really pulls you in giving you a lot of backstory and insight to this world. There are internet forum posts, history book pages, and company/family tree's added into this oversized issue. It gives just enough information to keep you intrigued.
I always love Tomm Coker's art and this series is no exception. Tomm draws out panels and frames them like a cinematographer. It's amazing.
The Black Monday Murders is a highly recommended series for those looking for an alt-history series that dabbles in black magic and crime noir. [Sean W. at Milwaukie TFAW]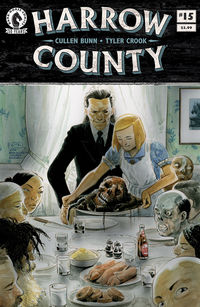 Harrow County #15
By: Cullen Bunn, Tyler Crook
One of the best horror comics being published today – Cullen Bunn and Tyler Crook's Harrow County – continues to weave this terror of magic, resurrection, and fate. In issue #15, Emmy is given a deeper look at her "family." Given a choice that will not only affect her but her home as well.
Crook does it again with his beautiful watercolor pages. Even if you don't care for horror, his landscapes of Harrow County are just gorgeous to look at. Cullen Bunn also has this magnificent way of crafting his story to get you to come back month after month.
There is a reason Harrow County was nominated for Best New Series at the 2016 Eisner's and won Best Ongoing Title at the Ghastly awards in 2015. If you haven't been reading this series, now is a fantastic time as the Syfy channel is adapting it for a series. Pick up Harrow County you won't be disappointed! [Martin M. at TFAW.com]
What did you think of these books? What should we review next week? Let us know below!
Please follow and like us: