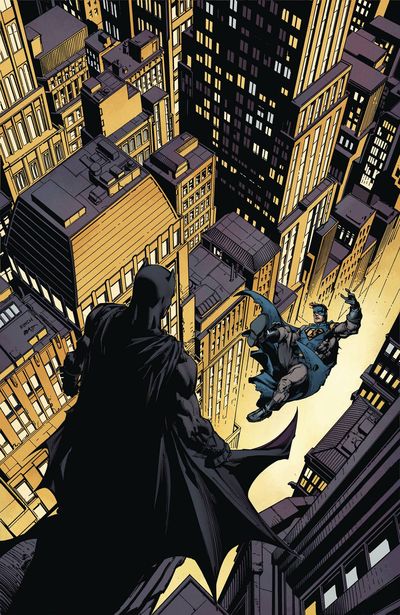 Tom King is a fan of callbacks. The flashback scene in Batman #3 that showed a young Gotham walking obliviously with his parents into a mugging, then being saved from that horror by Batman was a nod to Batman's own origin story. While the results of the two incidents were vastly different, both boys were inspired to the same goal in adulthood, saving Gotham City from itself.
Batman #4 opens with another callback. This one is a double whammy. In a setup reminiscent of a well-known scene from All Star Superman where The Man of Steel gracefully lands behind a suicidal girl on a rooftop and reassures her that everything will be all right, Gotham finds himself stationed on a ledge behind an apparently suicidal man. He recites the same words to the jumper that Batman spoke to Gotham as a young boy on the night he was mugged with his parents.
"We just have to remember that everyone gets scared. But all that really means is everyone gets an opportunity to fight that fear. Everyone gets a chance to be brave."
Unfortunately, the same words that inspired Gotham to become a vigilante crime fighter inspired this apparent bridge jumper to complete a different task, much darker than was assumed by the green hero. Gotham city is starting to take its toll on the idealistic young hero.
Tom King's decision to largely leave Hugo Strange in the background of this opening salvo of issues is brilliant. We've seen the bad doctor a couple times, enough to know that he's behind all these strange goings on in Gotham City, but we, as readers, are still as clueless as The World's Greatest Detective as to what end.
The art team, led by David Finch, continues to impress. The dark and twisty narrative is matched by imagery equally. The implicit violence in some scenes is just as vividly portrayed as the explicit violence in other scenes. This title is carrying a "T" rating for a reason.
Batman #4, DC Comics, released August 3, 2016, written by Tom King, pencils by David Finch, inks by Sandra Hope and Matt Banning, color by Jordie Bellaire, letters by John Workman, cover by David Finch, Jordie Bellaire, and Matt Banning, variant cover by Tim Sale, $2.69
Review by Brendan Allen.
Please follow and like us: