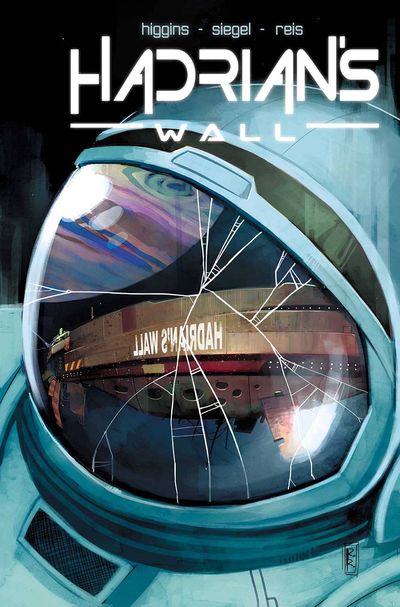 Kyle Higgins, Alec Siegel, and Rod Reis launch an all-new sci-fi noir tale, set nearly 70 years in an alternate future in which the Cold War was ended through a joint space colonization effort between the U.S. and Russia.
The story opens with the mysterious death of Edward Madigan, a worker for Antares Interspace, with ties to our protagonist, Simon Moore. Simon's tasked to investigate this death on the labor ship, Hadrian's Wall, located in an area with mounting hostilities. The story that begins to take shape has all the hints of intrigue, conspiracy, personal relationships, and seedy characters that are cornerstones of great noir tales.
The book takes on a tone reminiscent of classic sci-fi films such as Blade Runner and Alien, while also delivering it's own unique contribution in the form of ship design, fashion, and use of technology. The main character's life seems to be more sterile and organized, which is at odds with the world around him that's shown as more gritty and industrial.
Kyle Higgins (Mighty Morphin Power Rangers, Batman Beyond) and Alec Siegel (Batman Beyond, C.O.W.L.) work great as a writing team. The dialogue seems to bounce with ease from character to character. The pacing of the panels is done with precision. And most impressively, the quiet moments in space are beautiful, lonely, and terrifying.
Rod Reis (C.O.W.L.) delivers beautiful visuals that, even when full of blood, darkness, and scope, still feel focused, clean, and easy to follow. The aesthetic, while obviously inspired by sci-fi staples, feels like it's a fresh take on those classics with interesting choices for fashion and interior design. Unlike a lot of sci-fi that feels like the creator's idyllic world or worst nightmare, Hadrian's Wall is more realistic in its depiction of the future.
Hadrian's Wall has the unique ability to stand on its own as a noir crime tale with a sci-fi setting, that we don't often get exposed to. If you're a fan of either genre, Hadrian's Wall is something you should definitely check out.
ORDER HADRIAN'S WALL #1
DISCOVER OTHER NEW COMIC BOOK SERIES
Please follow and like us: