Has it really been a week since our last New Comic Book Day comic book review? Man, time flies. Here are a few of this week's new releases that stood out from the crowd. Check out our other blog articles so see our thoughts on other books. Be sure to comment or share our post on Facebook or Twitter if you like our articles!
SPOILER ALERT — We try to keep from posting spoilers, but one may sneak through to our reviews now and again. Read with caution, true believers.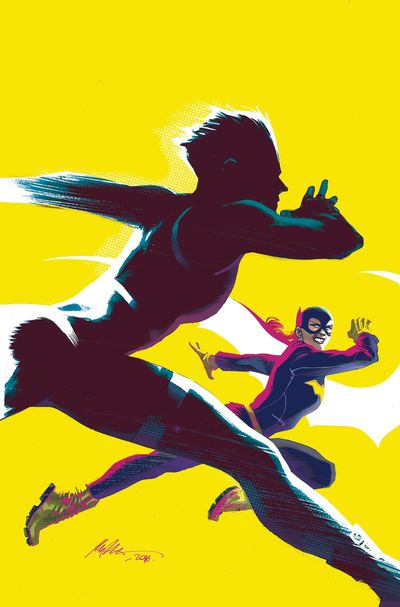 Batgirl #2
By: Hope Larson, Rafael Albuquerque
Beyond Burnside continues as Batgirl tries to decode the cryptic words in the last issue from the mysterious Fruit Bat. Barbara's path leads to train in mixed martial arts in an attempt to get over her past. As she takes a beating in the ring, things start heating up between her and Kai, which might be a little more than she, and Kai can handle. What Babs quickly discovers is that even her years of training and experience still can't prepare her for what's next.
Hope Larson delivers another issue that balances the brains and determination Batgirl is known for, with the melodrama that makes her such a great character for all ages. Rafael Albuquerque's art does a great job balancing each scene by being wide and dynamic during fights, but soft and fun during personal moments. Batgirl brilliantly separates itself nicely from the Earth-saving feats in the other Rebirth titles in exchange for a personal and relatable journey. If you're looking for a fun story with a resourceful character, Batgirl #2 will treat you well! [Mikey N. at TFAW.com]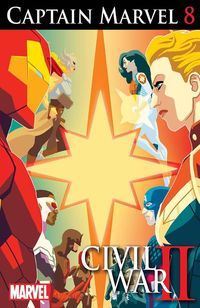 Captain Marvel #8
By: Ruth Fletcher Gage, Christos Gage, Kris Anka, Andy Owens, Matt Wilson
Carol Danvers is torn. She wholeheartedly believes that the predictive justice movement is saving lives, but she's being questioned (by virtually everyone) at every turn. She remains committed to the cause, but the pressure is starting to get to her and the seeds of uncertainty are starting to get to her. This issue of Captain Marvel dovetails in very well with the events that have been unfolding in the pages of Civil War II as Ruth Fletcher Gage and Christos Gage prove a strong grasp of Danvers' motivations.
You can really feel that we're getting dangerously close to a boiling point (as if the events in Civil War II #3 hadn't heated things up enough), and the events that unfold in this issue only add more uncertainty for Carol and the crew. Captain Marvel #8 has some great character moments with Captain Marvel, Black Panther, and Hawkeye. Looking forward to next issue! [Josh C. at TFAW.com]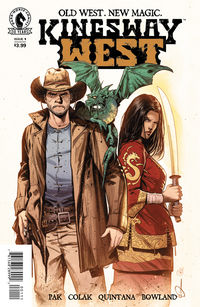 Kingsway West #1
By: Greg Pak, Mirko Colak, Wil Quinta
Greg Pak's latest book opens with an alternate look at the United States. With the West Coast being divided mainly between Mexico and the Chinese. We're given a bit of information in this world. Where Magic and Monsters exist alongside something called Red Gold – a mystical mineral that lives underneath the surface of the earth much like salt and gold.
We're introduced to our protagonist – in the same way most westerns start out – a mysterious man who is being hunted and has his hand forced into doing something he doesn't want to do. The first issue jumps ahead several years in different spots, which isn't a problem when setting up the environment of the story. Kingsway West #1 has the promise to be an excellent Western with magic/mystic influence. [Martin M. at TFAW.com]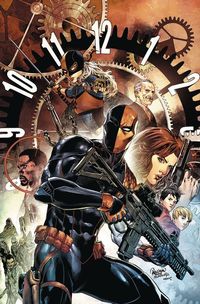 Deathstroke #1
By: Christopher Priest, Carlo Pagulayan
This issue is great for old and new readers of the famous Slade Wilson aka Deathstroke. Writer Christopher Priest makes sure to bring every angle of Deathstroke's personality through time and captivate our interest of what the heck is going on! It seems that Slade's partner, WinterGreen is stuck in a time loop and the president's life is in danger. This problem has Deathstroke's name written all over it, but where is he?! With a mix of action and snarky humor, this is a great start to the new Deathstroke series. [Darcey M. at Univseral Citywalk TFAW]
Snotgirl #2
By: Bryan Lee O'Malley, Leslie Hung
Lottie is a very self-obsessive person and Bryan Lee O'Malley does and excellent job showcasing that. He writes her in a way that reads as if we are reading one of her blogs – she writes her blog exactly how she thinks.
In this second issue, we get a little more information on what is going on in Lottie's life, from her boyfriend status to what the heck is going on with her stalker?!
Leslie Hung again does a fantastic job with the art of this book. I really enjoy the sense of style she brings to this series. If you are missing the humor that Bryan Lee O'Malley delivers in books like like Scott Pilgrim and Seconds, then this is a series you should be reading. It's not all about selfish fashion bloggers, she's got bigger problems than that. Snotgirl #2 keeps the narrative running even if you try and wipe it away.
[Martin M. at TFAW.com]
What did you think of these books? What should we review next week? Let us know below!
Please follow and like us: