For New Comic Book Day this week All New Wolverine Snikts her first Annual as does DC Comics Bombshells, war wages on in Saga, and Dark Horse's first issue of World of Tanks explodes onto the scene. Remember these are only a few of this week's new releases that stood out from the crowd. Check out our other blog articles so see our thoughts on other books. Be sure to comment or share our post on Facebook or Twitter if you like our articles!
SPOILER ALERT — We try to keep from posting spoilers, but one may sneak through to our reviews now and again. Read with caution, true believers.

DC Comics Bombshells Annual #1
By: Marguerite Bennett, Elsa Charretier, Terry Dodson
I have to say, I had the biggest grin on my face after I finished reading the DC Comics Bombshells Annual #1. It's got everything – new characters, beautiful and artistic poetry, great action, and fun, flirty humor combined with lots of heart that has become the trademark tone of the series. In this extra-long issue, Amanda Waller enlists the brilliant Frankie Charles to find a former Bombshell, long ago disappeared: Batgirl! Waller knows that Batgirl will be invaluable to the Bombshells' plans, but after a major loss, Babs went down a dark and twisted path and has become something much stranger – and more dangerous than she ever was before. Only Frankie has the guts, smarts, and savvy to carry off what could either be a rescue operation – or a suicide mission.
This issue introduces new DC characters that will pump you up (I liked them so much that I even forgot for awhile about how I wish they'd bring in Hawkgirl already). Featuring clever, fast-paced writing by Marguerite Bennett that builds the universe up and bonds you even more to the characters and their story. This is definitely one of my favorite issues of this series (we're 16 issues in as of press date, for those of you who are just joining us). The art, by Elsa Charretier and Terry Dodson is some of the most cohesive and gorgeous the series has had in recent times. The surprising, amazing line on the last page, well, let's just say it drops like a bombshell. Don't miss this giant-sized DC Comics Bombshells Annual! [Steve M. at Portland TFAW]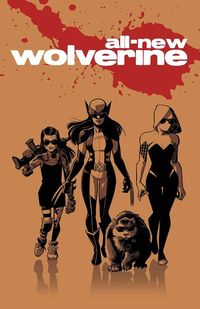 All New Wolverine Annual #1
By: Tom Taylor, Marcio Takara, Cameron Stewart
It has been a rough year for Laura, the All New Wolverine. She helped her cloned sisters hunt down a group of trained killers, teamed up with Squirrel Girl to take on some baddies, and dove headlong into Fin Fang Foom (like, inside his mouth) to rescue the original 616-Wolverine. On top of that, she's stepped up to train and raise her clone/sister Gabby – but at least she got a pet wolverine named Jonathan (a gift from Squirrel Girl) out of it all.
In this truly fun annual issue, you get to see what happens when you cross Wolverine and Spider-Gwen Freaky Friday style. What will happen when Gwen Stacy is thrown into the body of Wolverine, and how will she adapt to the new sets of powers and the loss of her old? How will Laura deal with her new super-strength and being part of a band? Oh, and not to give too much away, but there's a Wolverine version of Spider-Ham named Wolver-Hampton! I need a book with just him running around with Jonathan the Unstoppable (Laura's pet wolverine) like they were in a seventies cop drama. All that being said, do yourself a favor and get all covers to All New Wolverine Annual #1, and then read them all, it's well worth it! [Steve M. at Portland TFAW]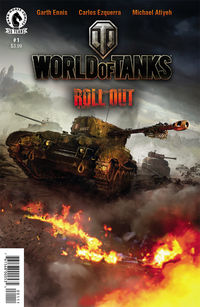 World of Tanks #1
By: Garth Ennis, Carlos Ezquerra, Michael Atiyeh, Isaac Hanford
Garth Ennis being no stranger to comics about war. It's only fitting that he's teamed up again with Carlos Ezquerra, to give us another fantastic series surrounding WWII and the battles people faced. World of Tanks #1 reads more like Ennis' other series Battlefields rather than War Stories. It's more about the fight they're in, rather than the characters themselves.
In this first issue, we get our setup – an untested greenhorn British crew go up against one of the toughest German tanks in history. Will they be able to overtake them? Time will only tell.
With Carlos at the helm of art, he gave this issue a silver-age war story style, and it fits perfectly. One of the key items that draws you into this book – and really all Garth Ennis war books – is his use of slang. Reading the characters dialgue while they use slag of WWII creates the environment quite well. As a War Stories reader, I was quite thrilled with World of Tanks #1 and am looking forward to the second issue. [Martin M. at TFAW.com]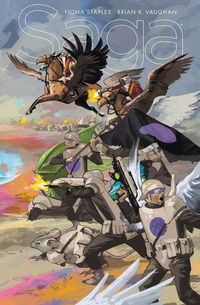 Saga #37
By: Brian K. Vaughan, Fiona Staples
After a three month hiatus, Saga is back! The famous team, Fiona Staples and Brian K. Vaughan beautifully start the new arc for this series. We last left off at Hazel escaping a refugee prison and her parents practically ripping apart their marriage and universe to find her! In this issue, we open up with a napping Hazel and her two adoring parents, Alana and Marko – and end with more questions!
We get to see what our favorite characters have been up to and how much everyone has grown. This issue slowly opens to a new problem our favorite couple and friends will have to face. Whatever could that be?! Pick up a copy of Saga #37 today to find out! [Darcey M. at Universal Citywalk TFAW]
What did you think of these books? What should we review next week? Let us know below!
Please follow and like us: