New Comic Book Day Eclipse's us with great books. From Cyborg, and his origins to Daredevil keeping the peace in Hell's Kitchen. Remember these are just a few of this week's new releases that stood out from the crowd. Check out our other blog articles to see our thoughts on other books. Be sure to comment or share our post on Facebook or Twitter if you like our articles!
SPOILER ALERT — We try to keep from posting spoilers, but one may sneak through to our reviews now and again. Read with caution, true believers.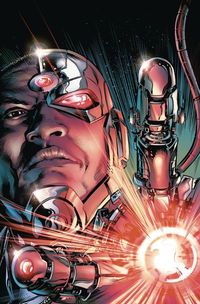 Cyborg Rebirth #1
By: John Semper Jr., Paul Pelletier, Will Conrad
John Semper Jr., Paul Pelletier and Will Conrad's Cyborg Rebirth #1 hits its mark as a fresh start for readers interested in the titular hero – before he hit's the big screen in Justice League next summer.
The first part of the comic gives a guided tour of Victor Stone's life – leading up to becoming the cybernetic superhero – mixed with a present day brawl with an unknown robotic monstrosity. These battle scenes keep the energy going throughout the book and find time to mix in some fun superhero/villain banter: "I've never met data that wasn't capable of being crunched." Once the backstory segment is finished, Cyborg comes to a startling realization about his father and his own existence.
We're given new questions that'll frame the next part of Cyborg's journey. What kind of being is he? Is he a man with a few mechanical parts? Or is he a machine imitating a human? And what does our mysterious narrator want with him?
FAMILIARIZE YOURSELF WITH CYBORG TODAY [Timothy S. at TFAW.com]
Eclipse #1
By: Zack Kaplan, Giovanni Timpano, Betsy Gonia,
Chrois Northrop, Troy Peteri
Science Fiction mixed with murder. Someone is out in the day, killing people and David Baxter will have to figure it out – before he becomes a victim.
What if solar flares caused us to live underground, away from the sun. Could we survive? Eclipse from newcomers Zack Kaplan and Giovanni Timpano give us a glimpse into what the world would look like if that was the case.
Kaplan does a good job setting up this world quickly, so we can get right into the main plot. On a routine daylight patrol, a body is found and it isn't there by accident. Eclipse has promise to become a very entertaining and grim look at a post-apocalyptic world that we really haven't seen before.
SEE ECLIPSE ISSUES AT TFAW [Martin M. at TFAW.com]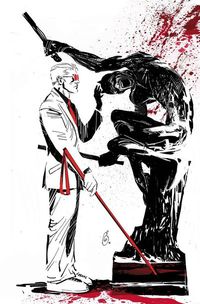 Daredevil #11
By: Charles Soule, Ron Garney, Matt Milla
Dark Art continues as a piece of "art" has been found. Made with over 100 people's blood, the person who found it wants to make money off of it – this is New York City after all. Our heroe's everyday persona Matt Murdock as D.A. is asked to make sure that the show doesn't go on.
Before the "blood mural" can be shown a new piece is found–this time involving Inhumans. Luckily, Daredevil is en route to let this new assailant know how much he loves his work.
Charles Soule continues to unravel this new world Matt Murdock has come back to after his move to San Fransico. Along with Artist Ron Garney, and colorist Matt Milla, this Hell's Kitchen has gotten a lot darker. This story reminds me of the environment during Shadowland.
DISCOVER EVEN MORE DAREDEVIL TODAY [Martin M. at TFAW.com]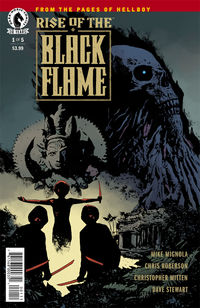 Rise of the Black Flame #1
By: Mike Mignola, Chris Roberson, Christopher Mitten, Dave Stewart, Laurence Campbell
Here's the setup for Rise of the Black Flame: Young girls are disappearing from the British colonized cities of Burma. The trail will lead a group of international adventurers deep into the jungle, to an ancient evil power, wielded by the bloodthirsty Cult of the Black Flame…
The story starts off with an abduction of a young "English-born" girl. Two local police officers, the seasoned Sergeant McAllister and a young man named Sandhu, have pledged to track down the abductors.
Their investigation takes them from Rangoon to Bangkok where the two encounter monster hunter/ghost chaser Sarah Jewell and Marie Therese Lafleur. McAllister has encountered Jewell before, and believes they are in search of the same people, so the four band together to enter the jungle for the search for the Temple of the Black Flame.
This is a really intriguing story that's captured my attention in a big way. Fans of the B.P.R.D. will get the most enjoyment out of Rise of the Black Flame #1, but the issue also serves as a great entry point and will undoubtedly lead newcomers down a journey that will be only be sated by continuing down the rabbit hole that is the Mignolaverse.
ORDER THE FIRST THREE RISE OF THE BLACK FLAME ISSUES NOW [Josh C. at TFAW.com]
What did you think of these books? What should we review next week? Let us know below!
Please follow and like us: